Let's be honest, there are loads of things to consider when designing your kitchen – space, usage, budget, colour, appliances, lighting, cabinets, layout etc etc, which is why there are hundreds of companies singularly focussed on kitchen design.
Today we are focussing on three key elements to get your kitchen makeover moving.
COLOUR COLOUR COLOUR
Colour determines so much that it is super important for you to have a solid idea of what colours are driving your kitchen makeover. Cabinets, backsplashes, countertops – all these elements will revolve around the overall colour scheme you have decided on. Gather swatches and paint samples to start your moodboard at home.
Keeping up with our Escapade and 'shades of blue' theme running through October, we are finding plenty of inspiration in these blue kitchens.
You can see from the pictures that the different blues set a very different tone to the spaces – another reminder why colour choice is SO important when it comes to design.
One a side note – I am completely in love with this square kitchen bar countertop. So much more striking than the rectangular shape we we usually see.
CABINETS + DOOR PULLS
Your kitchen cabinets are one of the most visual elements that will set the overall style for your kitchen. Cabinets with panels, especially ones that are mitred or have applied mouldings will give your kitchen a more traditional, country look, while flat slab style cabinets are a distinctly more contemporary option.
This goes hand in hand with the door pulls adorning said cabinets. A prominent trend for a modern style kitchen is to forgo pulls altogether and use a magnetic pressure latch. While I love the look of cabinetry without handles, I know firsthand that the reality can be very different! If these latches are substandard in any way, good luck getting those doors or drawers open, or to stay closed.
The picture on the left shows how a simple panel detail and cup handle create the more traditional feeling, while on the right the smooth cabinet front without handles has a much more contemporary feeling.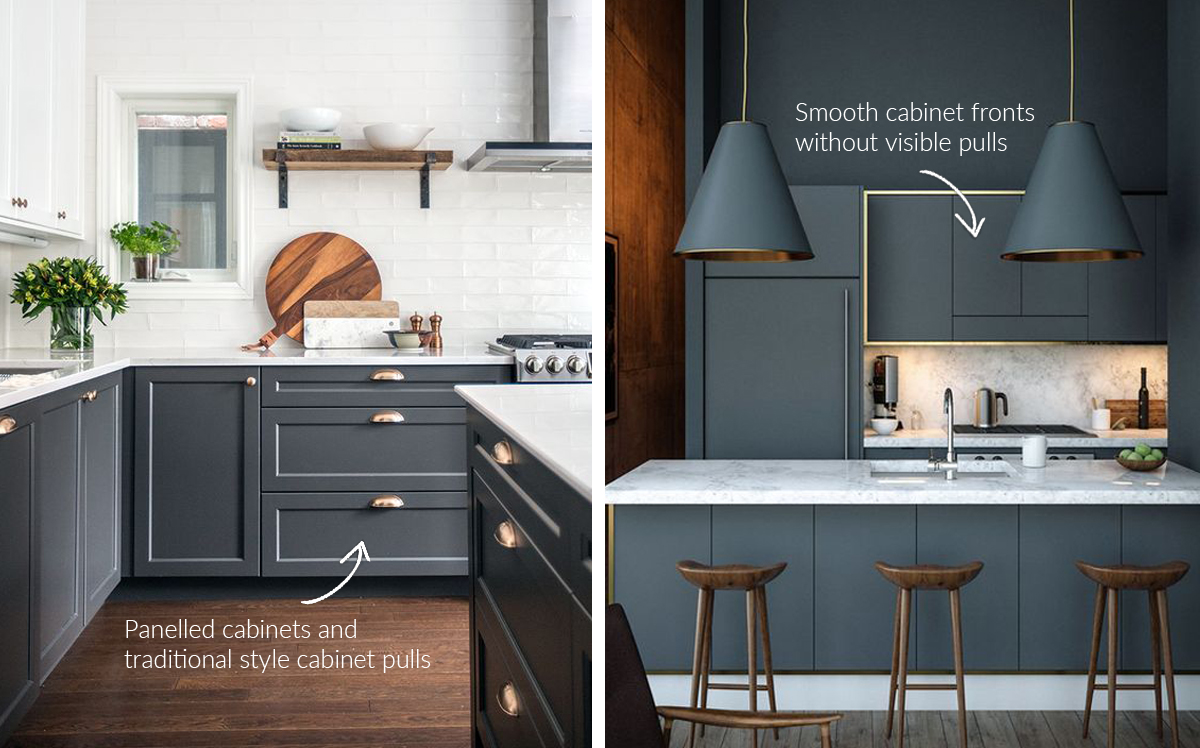 1 | 2
My personal preference is actually for discreet finger recesses, which can be sublty hidden or created into a design feature.
COUNTERTOPS + BACKSPLASHES
Countertops are the crowning jewel of your cabinets, so choosing the 'right' countertop gives even the most design savvy individual a little anxiety. Tempting as it is to choose a countertop based on look alone, the materials' durability, maintenance and of course cost are also important factors to consider.
You need to assess your lifestyle and usage before choosing the right material. Natural stone materials like marble are softer and porous and require delicate use and care, so if you have lots of children spilling colourful food and drink over the counter, then this isn't the material for you.
Engineered stone countertops come in a wider variety of colours and are more durable and easier to maintain. Concrete has also come a long way, making the surfaces more durable and available in a variety of finishes.
When it comes to deciding on the backsplash, the colour and style will need to tie in with the rest of your kitchen design. You will also need to take into consideration its height (halfway up the wall or all the way to the ceiling), the material (ceramic tile, marble, brick) and the shape and pattern (rectangular subway tile, herringbone patterns, paseo tile pattern). Don't forget that your hardware choice also affects the final style of your kitchen.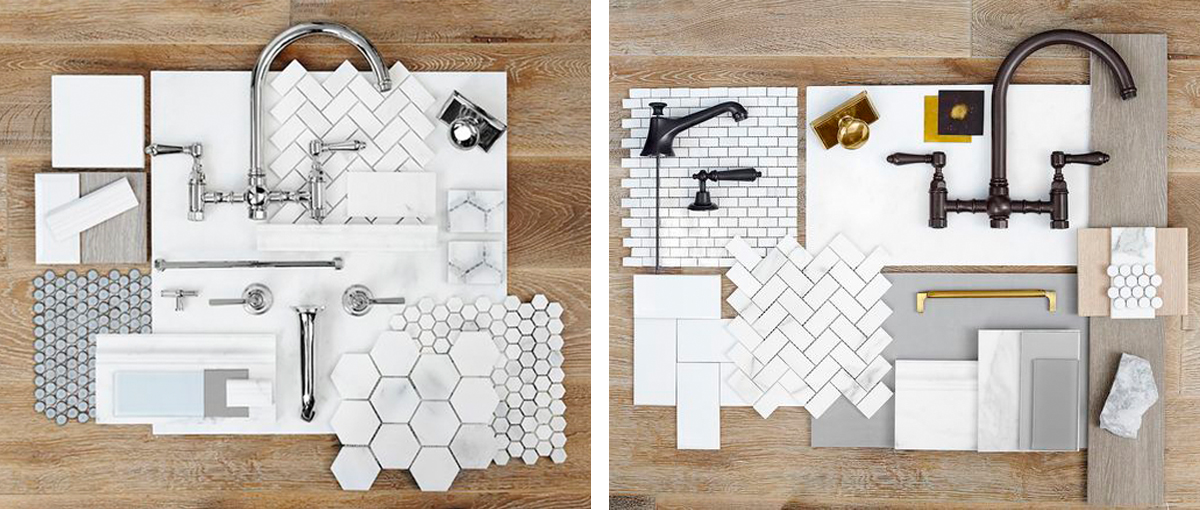 1 | 2
Are you feeling a little anxious with all the decisions? Don't worry, you are not alone. Remodelling a kitchen is hard work with tons of decisions to be and usually not enough time to make them. If you're feeling a little anxious, why not contact one of our talented interior designers to run your ideas and concerns past. Our E-Consultation is the perfect quick fix for your nagging design dilemmas!
SaveSaveSaveSaveSaveSaveSaveSave
SaveSave
SaveSaveSaveSaveSaveSave
SaveSave