Here we are in the former master bedroom of our AirBnB apartment makeover. While we didn't need to knock down any walls, as you can see the room needed a full gut. We called on Lloyd and his team from Trade Local to help us tear the place apart and put it back together.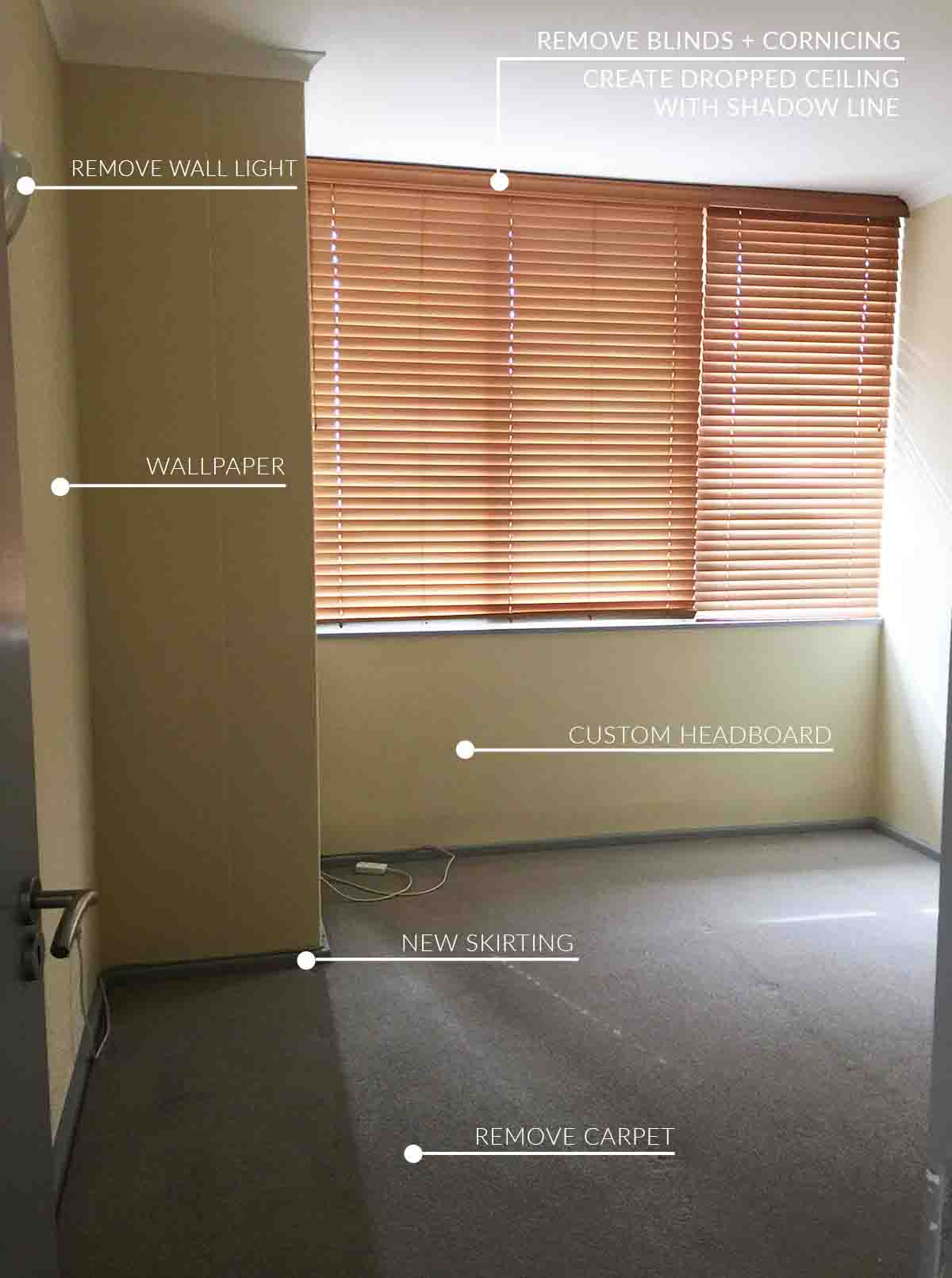 Looking at the floor plan below you can see the space is somewhat constrained, and the small wall return with nook limits the available width of the room for the bed and bedside pedestals.
In the end we opted for a Queen size bed (extra length) to allow for bedside pedestals that weren't too small and dinky. The niche worked as the perfect space for our client's dressing table console – as well as the feature wallpaper we installed in the room!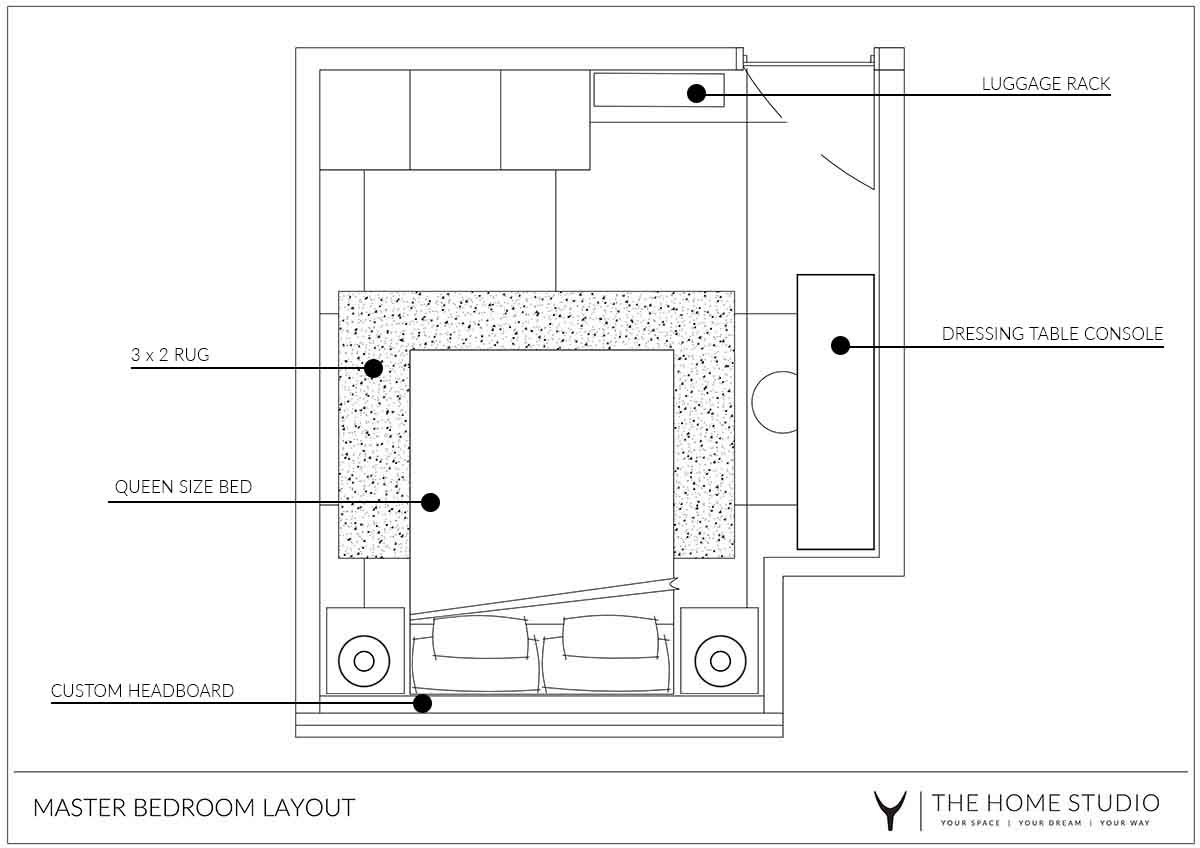 AFTER
For those of you planning your own renovations, let's talk about a few of the architectural design details for a moment. The oh so important details that are often after thoughts. Cornicing. I have to say we don't love it. Some things should not be features (unless they already are – like you know, in a period apartment in Paris where the ceiling cornicing is everything!!). But here, in this apartment, the cornicing was not that. Instead we went for a dropped ceiling with sleek shadow line. The dropped ceiling allowed us to install much needed recessed ceiling lighting, and the drop also doubles as a pelmet to hide the top of the blinds. While we would of course loved for the air conditioning to be hidden in the wall or cupboard somewhere, we already had to chase the wiring and piping in the walls and out the side of the building, so this was one of the least offensive places we would put it in the room.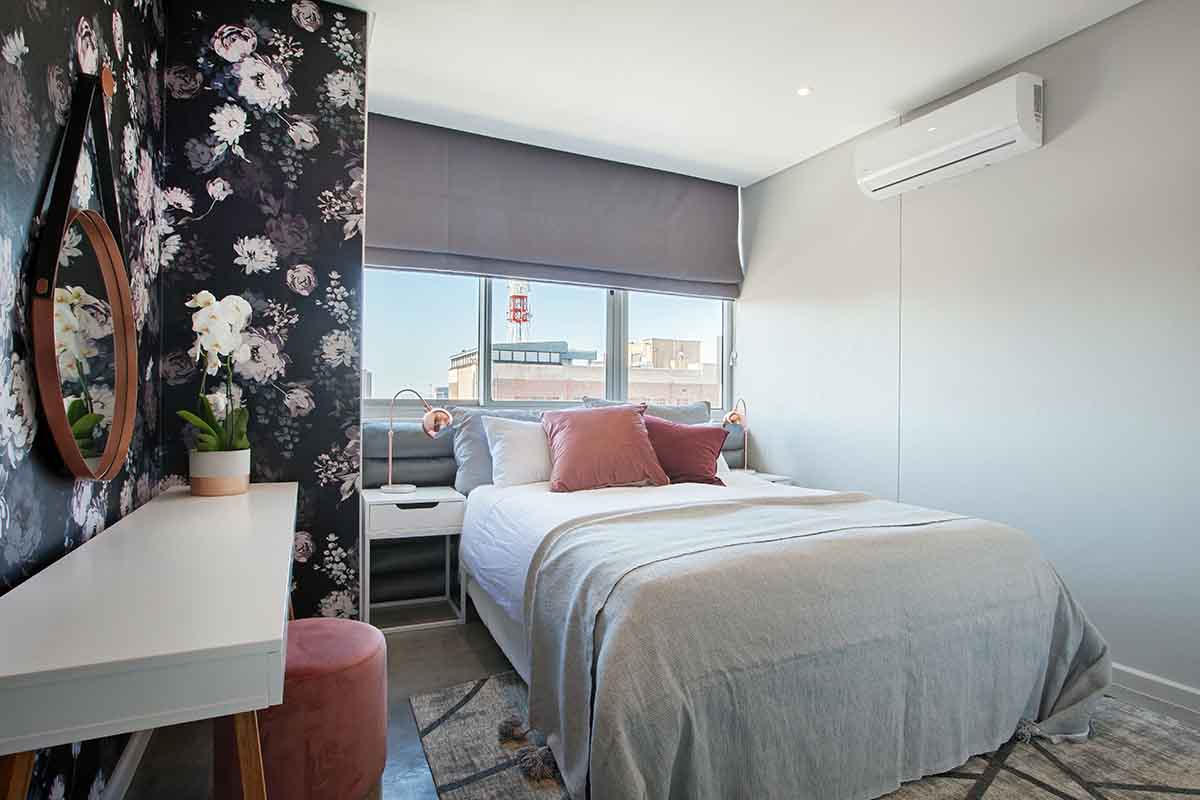 The hero piece in this room is clearly the wallpaper, which we're more than just a little in love with. It's called Dark Floral by Viki Coetzer and is available through Robin Spring. Like we said before, the darkness of the wallpaper adds much needed gravitas and drama to the room. While we love the palette of soft greys, white and blush colour, the room could otherwise be a little dull without the wallpaper.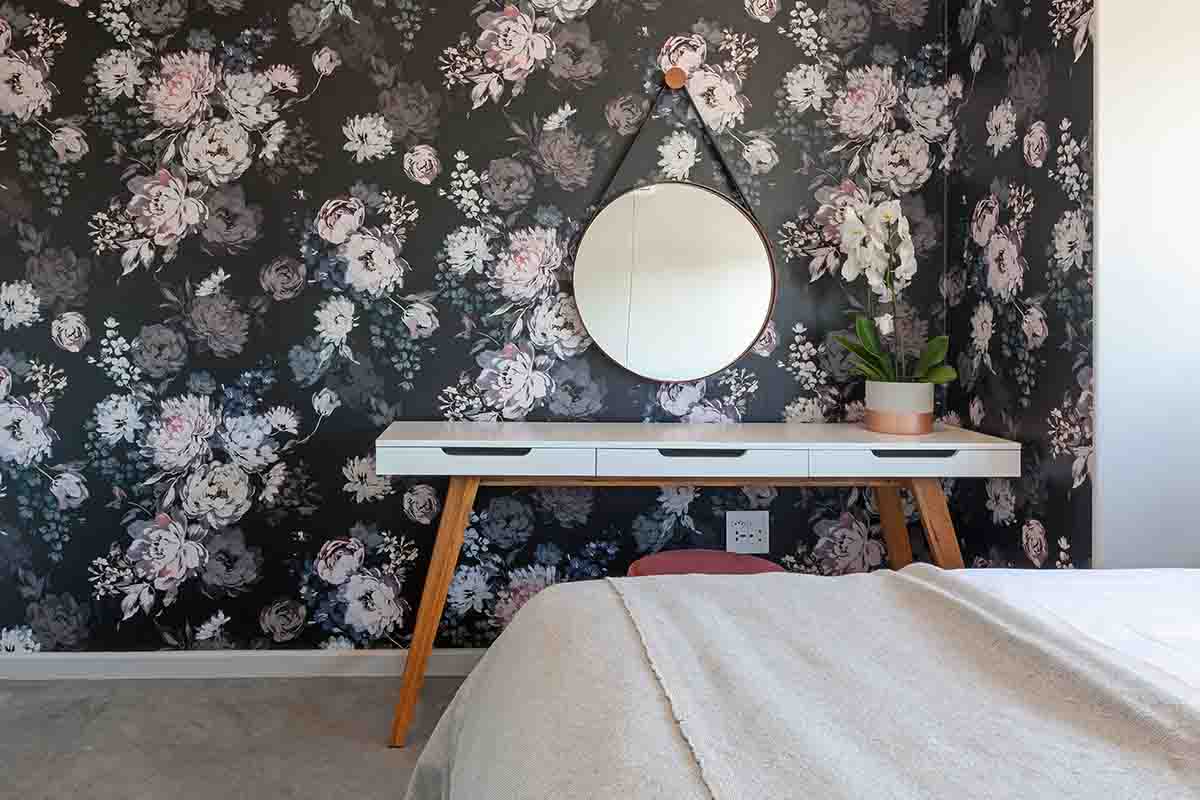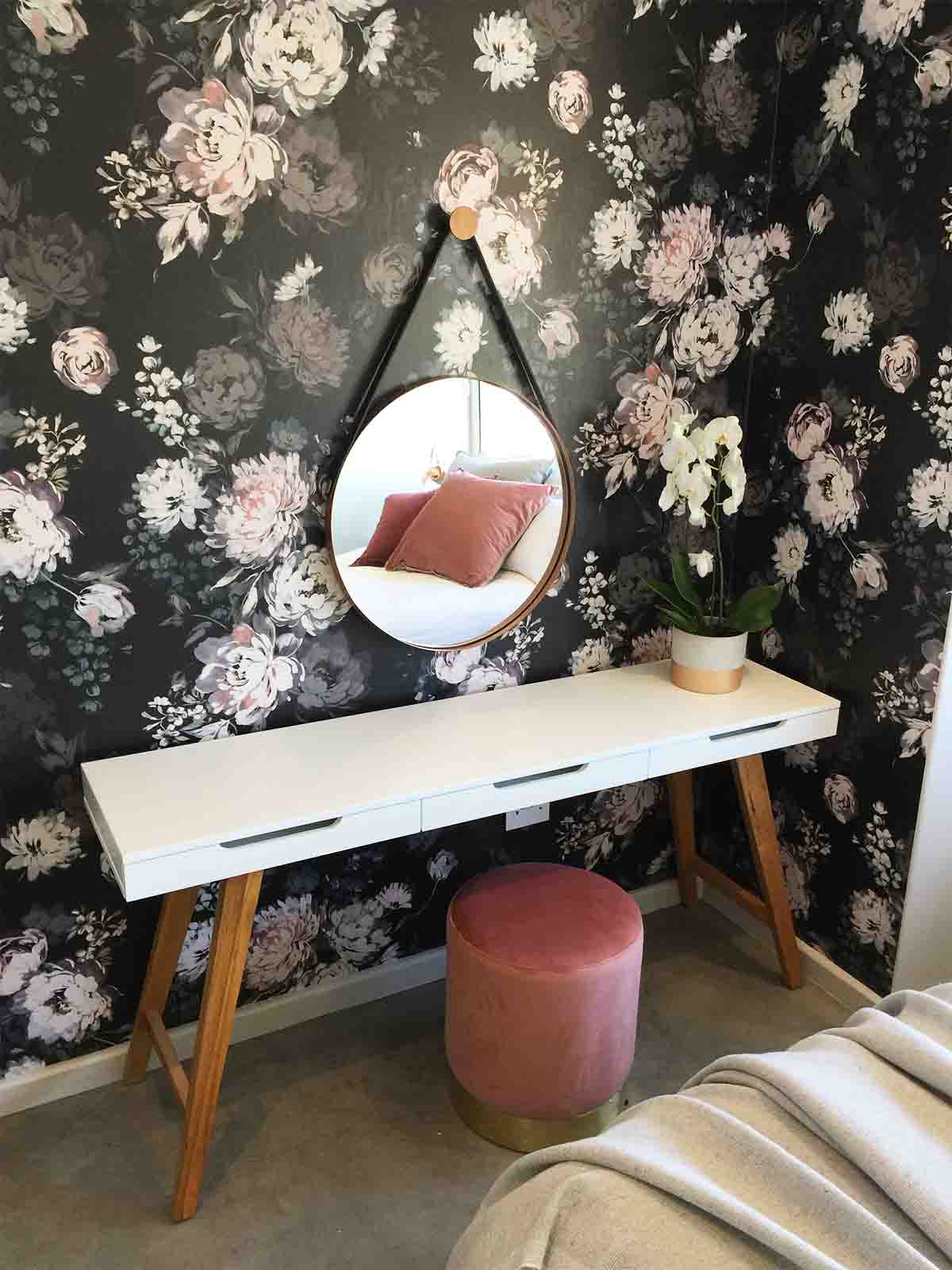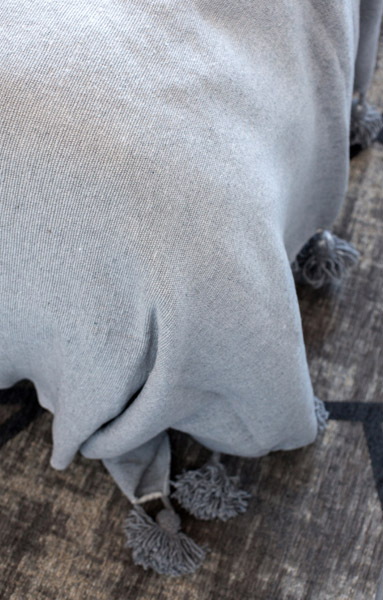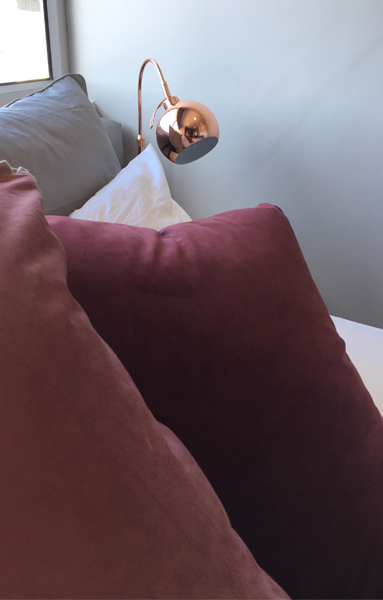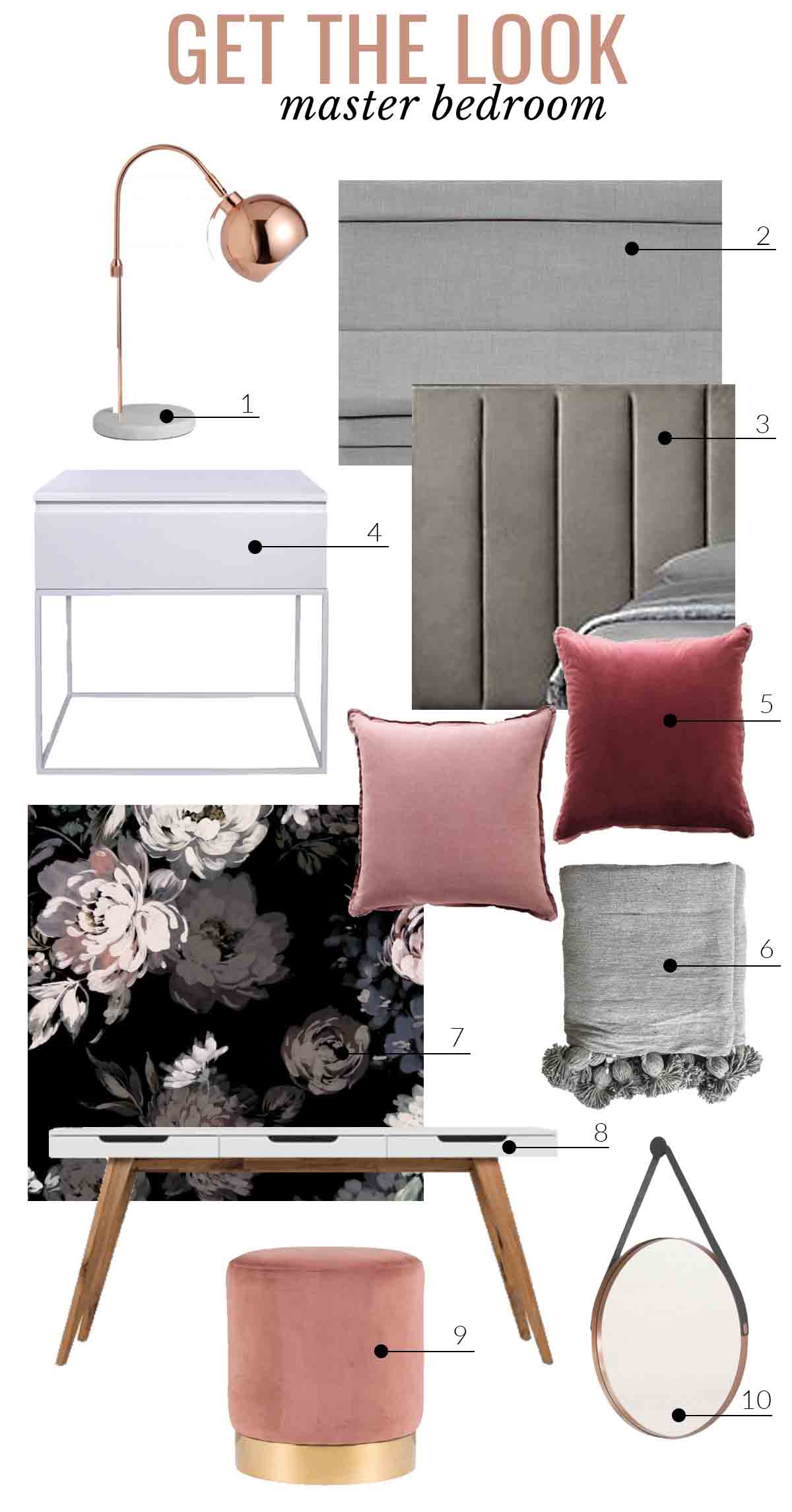 1. Arco Lamp from Eleven Past | 2. Custom Blinds by Lula Fabrics | 3. Custom Headboard by Lula Fabrics | 4. Modern Pedestal from Pine Options | 5. Scatters from Haus | 6. Moroccan throw from The Home Studio (contact us for pricing and stock) | 7. Dark Floral from Robin Sprong | 8. Loft Console from @Home | 9. Velvet Ottoman from @Home | 10. Leather Strap Mirror from Knus