It's Monday and I'm sure most of us are ready to wash the day away. We've been helping a few clients with budget focussed bathroom makeovers recently, and a common question from someone wanting to make small updates to their bathroom space is "where's a good place to begin?".
Well the obvious place for us to start is the cleaning and removal phase. It's incredible what a deep bathroom clean does – and by this we mean scouring grout, baths and shower screens so that the space literally sparkles.
Next up would be refreshing any paintwork that needs it (whether keeping the same colour or making a change), and then to remove any unnecessary and unsightly loose items from the space.
Let me get real honest with you real quickly… no one needs to see your toilet brush and bathroom cleaning products, EVER, even if they are "hidden" behind the toilet pipes. If you really, really have no space to store them in ANY other part of the house, then consider a functional and good looking storage box. I feel the same about toilet rolls. They're not decorative. They're functional.
Okay, so once your bathroom has been dialled back to a clean and clutter free space, you then turn your attention to the smaller, less costly details that can make all the difference to the feeling in the room.
Now more than ever is the time to turn your bathroom into your personal home spa setting.
Start With A Tray
If you've got surface space to play with, a tray is a must have styling accessory. This is the base for your vanity and bathroom styling. It might sound strange, but your hand soap, lotions and small loose items look far more intentional and stylish when placed on a tray.
On the tray you can add more depth and interest by layering in a small dish for your small jewellery pieces. Again, it makes the pieces look more purposeful and ties them into your bathroom finishes.
Use Stylish Containers
If your bathroom has room to spare, then consider freeing up closed storage by decanting items used on a daily basis and displaying them in a stylish container. Using a set of beautiful containers visually frees up your space from clutter and goes a long way to making the space feel and look more organised.
Add A Candle
Another styling essential is your bathroom candle, which immediately takes your bathroom spa vibes up a notch. Having a candle lit in your bathroom when you have guests makes your home feel so much more welcoming.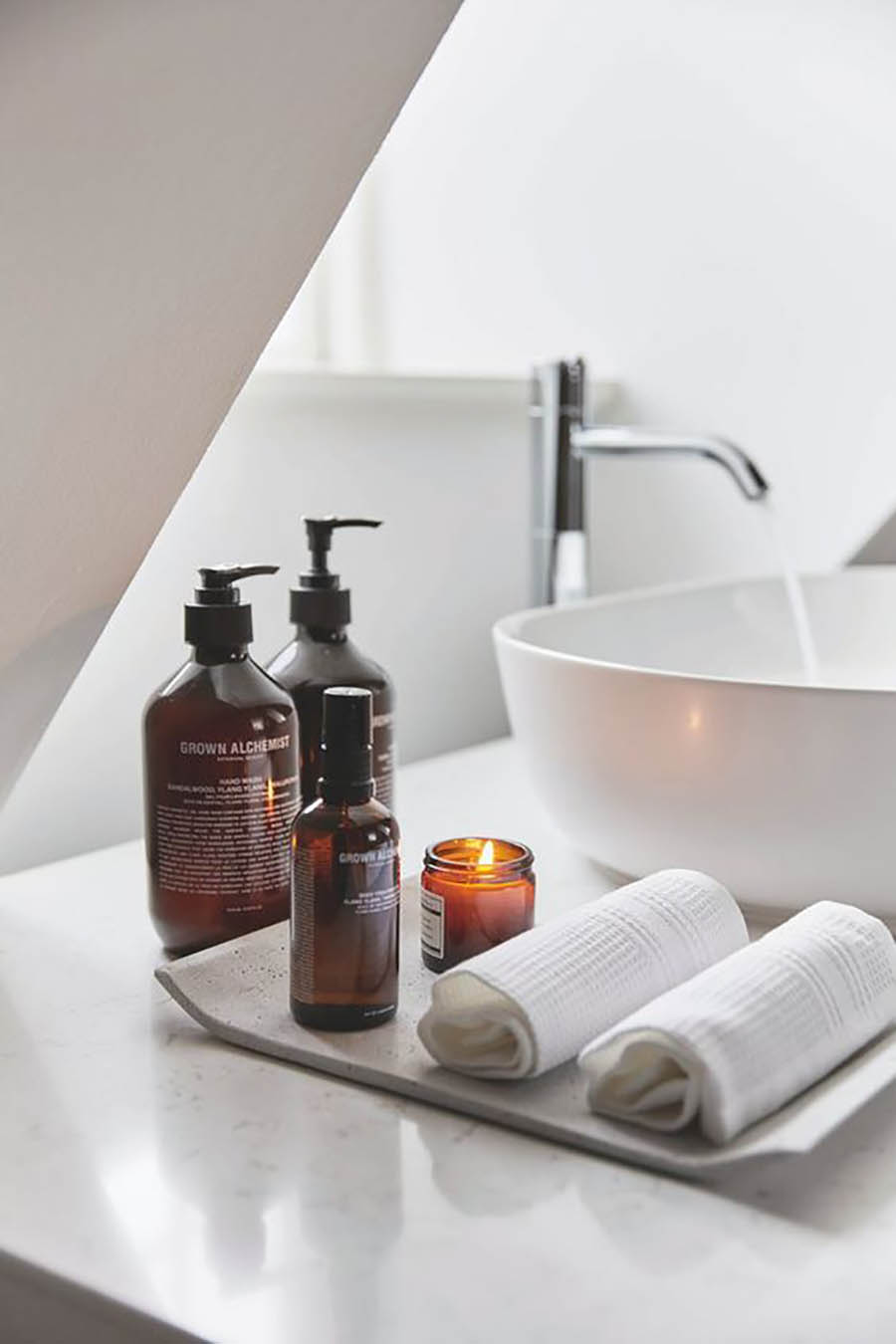 Image
Whether you arrange these items on one larger tray or two smaller ones depends on available surface space. Remember to arrange the pieces with a variety of heights to create an interesting display.
Bring The Space To Life
Finally you'll need to bring some life to the space. So either a beautiful vase, or if surface space is tight, consider a floor planter to hold an indoor plant.
For those where space is a truly at a premium we love a high shelf with small potted plants, while a single hanging planter is ideal for our bathroom minimalists.