Last week in this post we showed you our inspiration and the design concept for a grey and blush living room design we have been working on.
Today we're showing you how to get the look at home, across 3 different budgets.
It's interesting to note that on all three budget options it is essentially the rug and the arm chair that stretches the cost of the room. If you can find more affordable options for either of these, then you can greatly reduce the cost for any of these looks.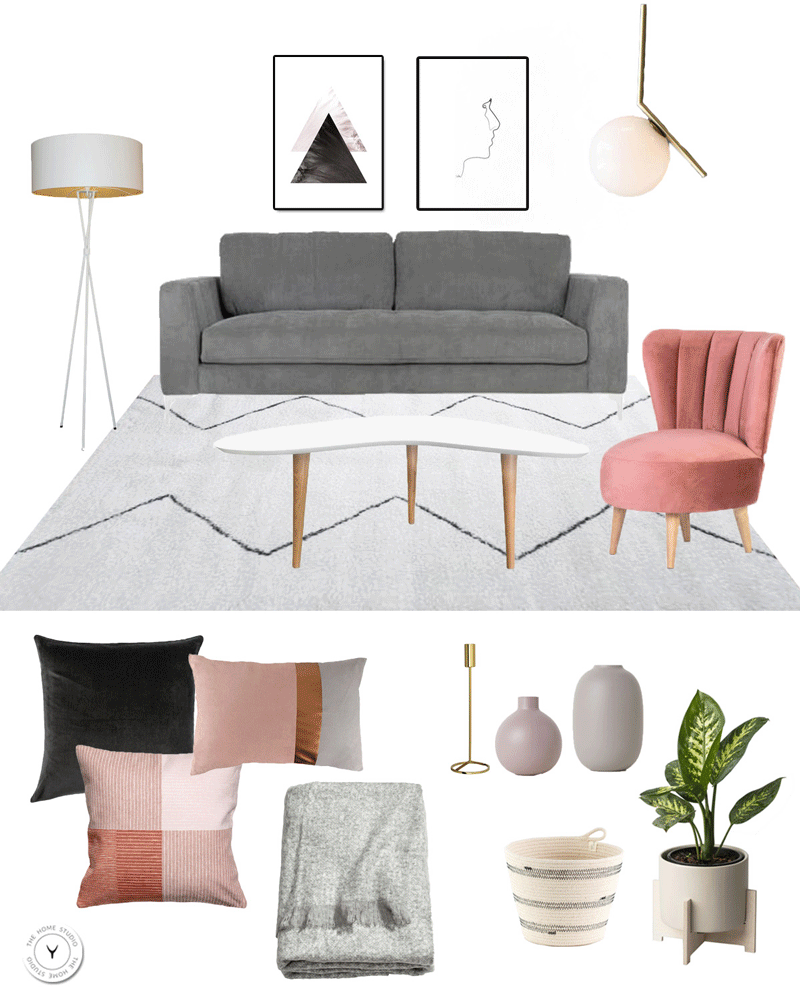 First up is our least expensive room. We included the beautiful Tangier Rug from Hertex for a soft landing and the stylish butterfly feature chair from Klooftique. You'll notice in all the designs we kept the brass light pendant, which we are currently crushing on.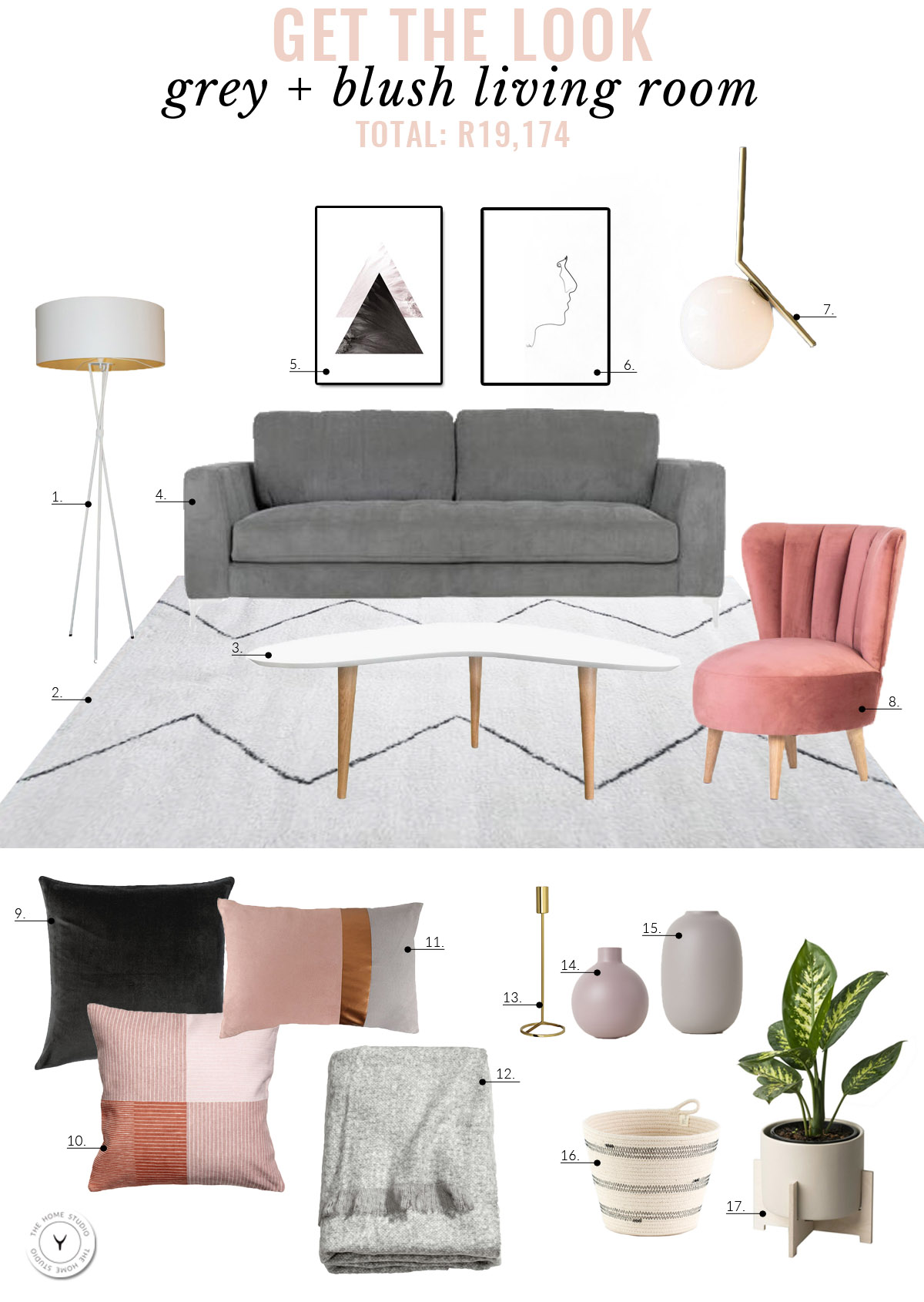 1. Mia White Tripod Lamp from Knus | 2. Tangier Rug from Hertex | 3. Moore Coffee Table from Knus | 4. Oxford 3 Seater from @home | 5. Geometric Print from Superbalist | 6. Sideline Print from Superbalist | 7. White Glass and Brass Pendant from Arora Lights | 8. Butterfly Chair from Klooftique | 9. Bole Cushion from Woolworths | 10. Pink Squares Cushion from H&M | 11. Mock Suede Cushion from MRP Home | 12. Grey Blanket from H&M Home | 13. Single Gold Candlestick from H&M Home | 14. Small Blush Vase from H&M Home | 15. Grey Vase from H&M Home | 16. Stitch Planter Basket from Knus | 17. Cango Pot Plant Holder from Knus
This next space jumps up quite significantly in price point, mostly due to the increase in cost of the sofa. This beauty is from Klooftique in Cape Town, whose sofas we are big fans of. Also, the Molly is so plush – we love her!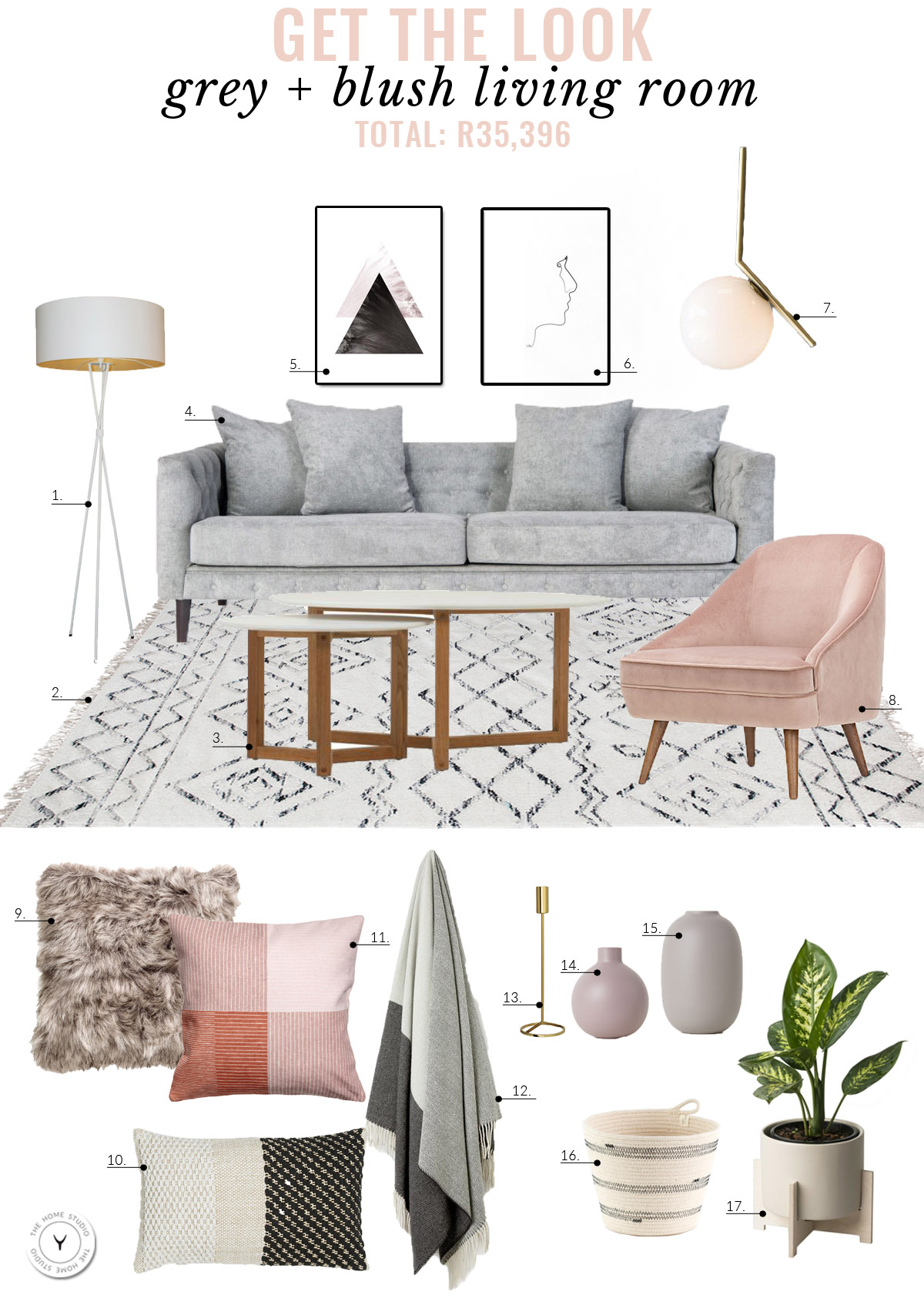 1. Mia White Tripod Lamp from Knus | 2. Geometric Rug from Weylandts | 3. Loft Nesting Tables from @home | 4. Oxford 3 Seater from @home | 5. Geometric Print from Superbalist | 6. Sideline Print from Superbalist | 7. White Glass and Brass Pendant from Arora Lights | 8. Molly Chair from The Sofa Company | 9. Faux Fur Cushion from H&M Home | 10. Pink Squares Cushion from H&M | 11. Serrano Cushion from Superbalist | 12. Cove Throw from Country Road Home | 13. Single Gold Candlestick from H&M Home | 14. Small Blush Vase from H&M Home | 15. Grey Vase from H&M Home | 16. Stitch Planter Basket from Knus | 17. Cango Pot Plant Holder from Knus
The fact that we have the versace chair in this room design should tell you everything about the look and feel of the space. Elegant, chic, modern and feminine – but not too girly kitch. What we're really impressed with is how the R120 posters from Superbalist still seem to work across all the styles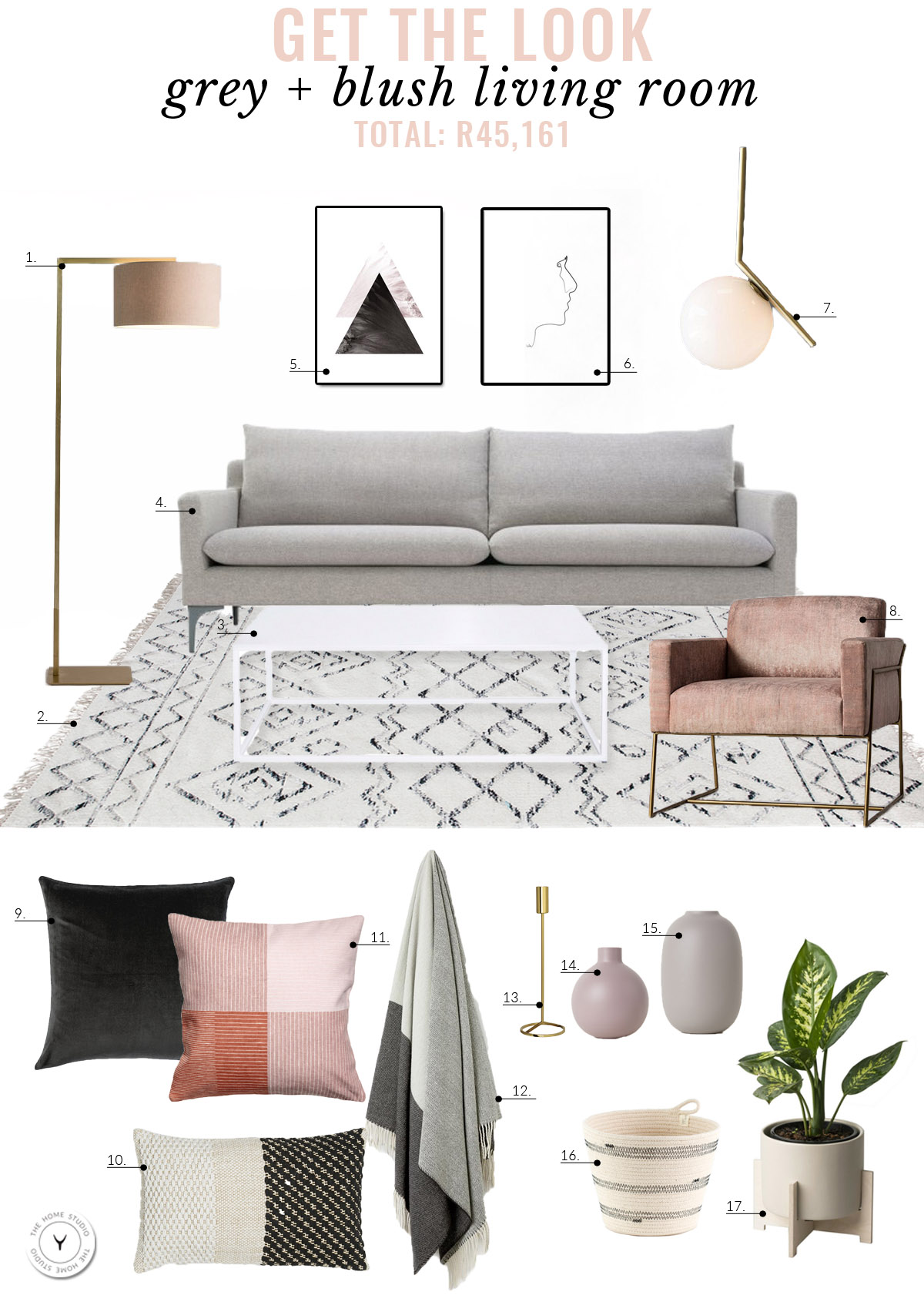 1. Gold Cantilever Lamp from SHF | 2. Geometric Rug from Weylandts | 3. White Steel Table from LIM | 4. Kamma 3-Seater Sofa from The Sofa Company | 5. Geometric Print from Superbalist | 6. Sideline Print from Superbalist | 7. White Glass and Brass Pendant from Arora Lights | 8. Versace Chair from SHF | 9. Bole Cushion from Woolworths | 10. Pink Squares Cushion from H&M | 11. Serrano Cushion from Superbalist | 12. Cove Throw from Country Road Home | 13. Single Gold Candlestick from H&M Home | 14. Small Blush Vase from H&M Home | 15. Grey Vase from H&M Home | 16. Stitch Planter Basket from Knus | 17. Cango Pot Plant Holder from Knus
SaveSave
SaveSave