It's time to move the living outside and we are here to help. If you've been waiting for the right moment, or stalling just because, we're here to help you get your outdoor space ready for the summer months ahead. We're lucky to be spoilt with plenty of sunshine, and we know that South Africans love nothing better than spending time outside – especially with a braai on the go.
So whether you need to spruce up a stylish balcony, inject some personality into a small courtyard or look at your garden furniture, here are a few easy steps to get your outdoor space summer ready.
Tidy Up
This is like basic pre-design 101, and advice that extends to the interiors of your home too. Before embarking on any sort of design project, take some time to pack away any broken or unused items, prune dead branches and fix any flaws such as damaged fencing or even patio bricks and stones.
Giving your outside area a general clean and once over will enable to assess the situation properly and see which areas need extra attention. If you're lucky, that might be the end of your makeover journey.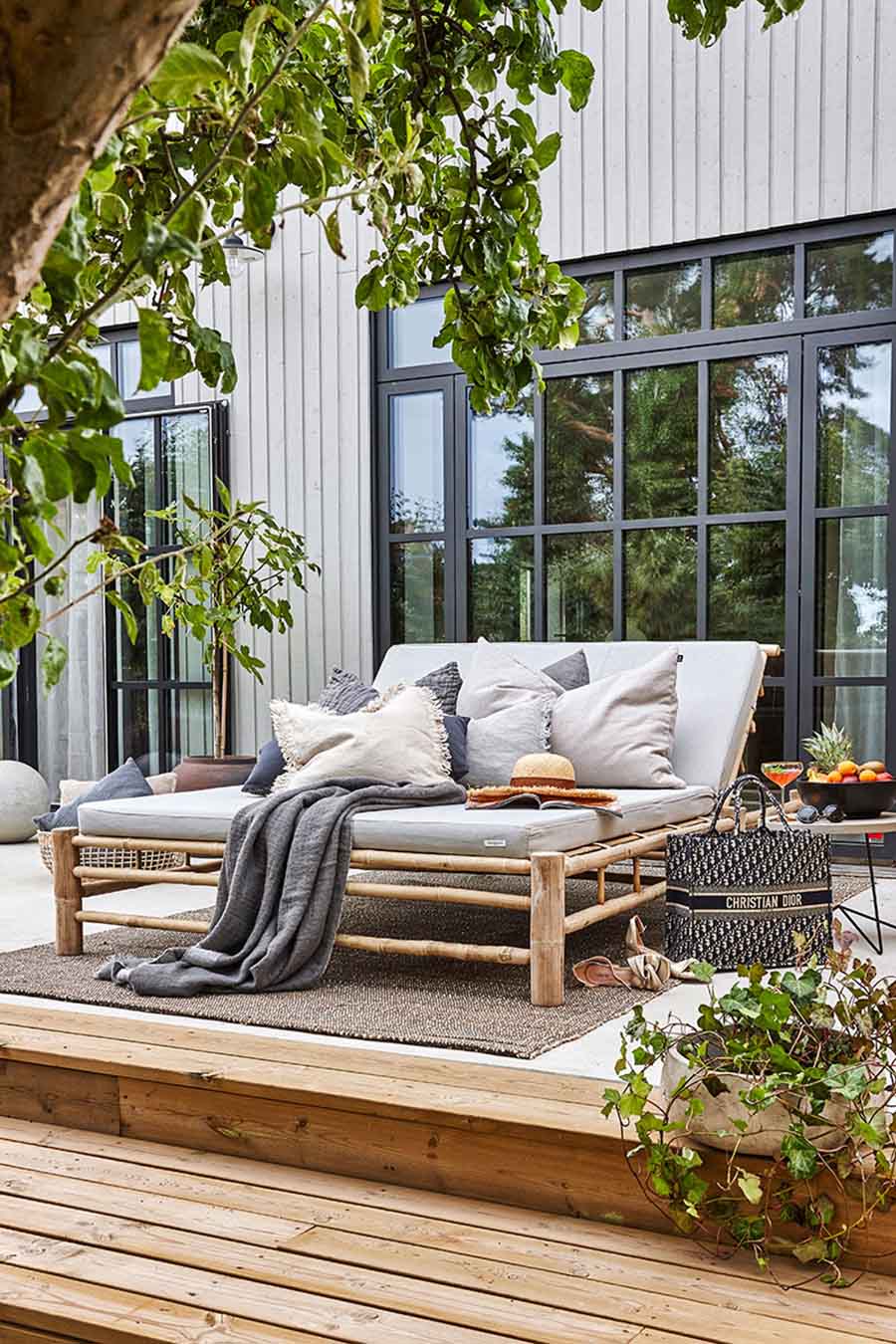 Image Feature | Above
Choose Your Colour Palette
Just like any space, it is worth thinking about the colour and style you are looking for in your outdoor space. If you choose to go with a very neutral or monochromatic setting, remember to mix in wood or similar to bring warmth to the setting.
Create Your Setting
Creating an outdoor room is very similar to an indoor room, and in the summer months it adds to much extra space to your home. I know that in summer we spend all our time on our deck and almost no time in our living rom. So when looking at your setting, first look at your "walls, floors and ceilings".
Outside we can say that the walls are the plants surrounding you, your floor is the floor, but also an outdoor rug (yes, essential for any outdoor space) and the ceiling is most likely a pergola or umbrella. The combination of these three elements create the setting for your space and work towards defining the "room", all of which give it a sense of intimacy and cosiness, making it feel more welcoming and conducive to conversation. It also elevates the feeling from just a few pieces of furniture on a bare deck. Everyone wants to sit under that umbrella.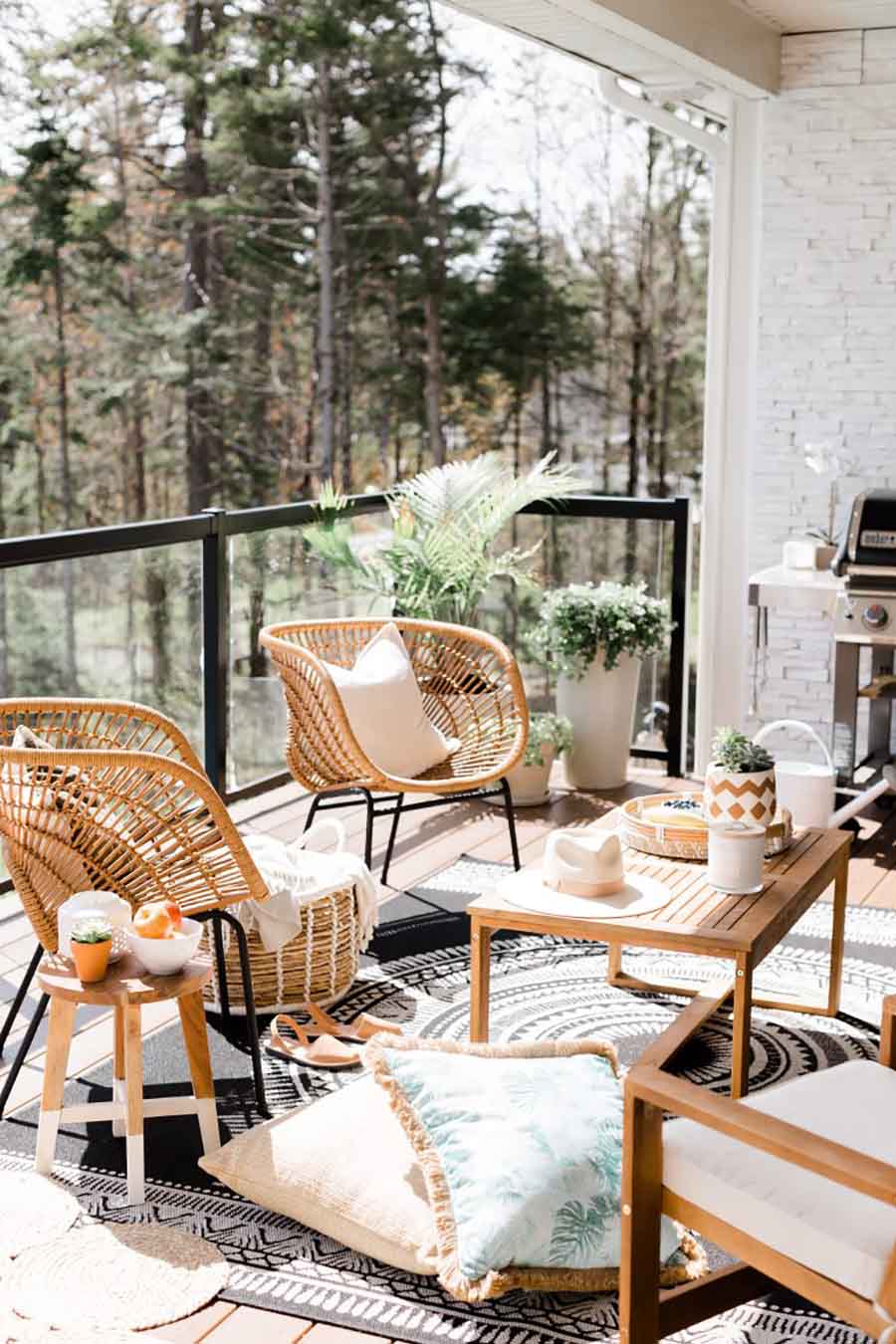 Image Source
Assess Your Furniture Needs
If your furniture has been sitting outside through winter the for the last 6 months, consider whether a deep clean is required and whether any timber pieces need sanding and re-oiling.
Once your furniture is summer ready, choose the one piece that acts as more of a statement, and then arrange everything else around it. While you don't need a full matching set outdoors, it is nice to create a little symmetry in your space. A pair of matching armchairs will nicely compliment a larger sofa set.
Update Your Soft Furnishings
Updating the soft furnishings is the most budget friendly way to spruce up your outdoor space. Replacing sun-damaged scatters and bringing in a new colourful throw will your yearly staples an annual refresh.
This is also your chance to bring in more pattern and colour. Just remember if you are working with a neutral palette you'll pattern and texture to keep things interesting and inviting. Since this is space outside after all, it's a great opportunity to experiment and see how much pattern, colour and contrast you can handle.
Add Some Ambiance
Hello twinkly lights. Nothing creates ambiance in the evening like soft lighting, perfect for alfresco dining and late night entertaining.
You can also consider a free standing focal fire put, which is great for the cooler evenings.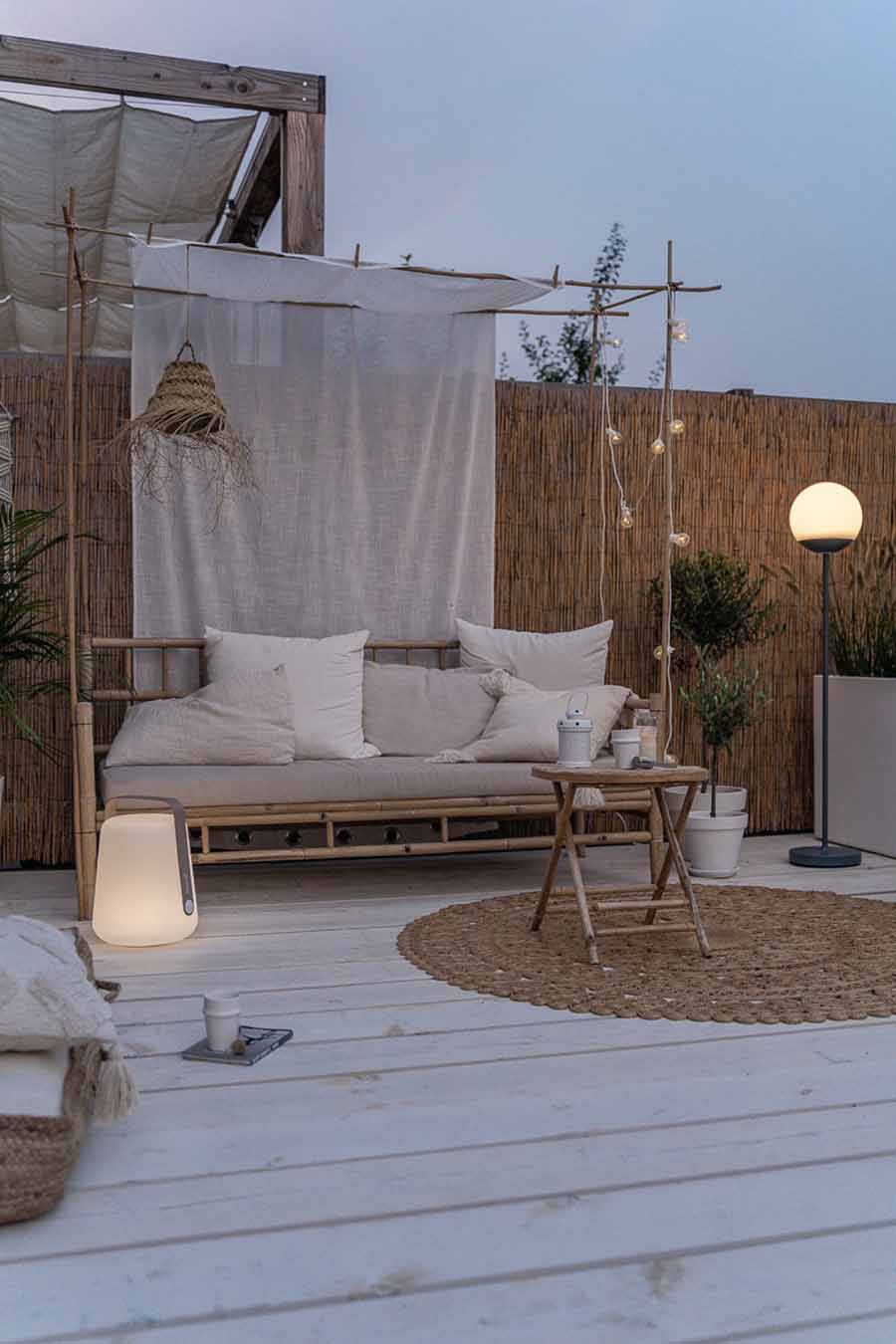 Image Source
If you are struggling on where to get started, then we've pulled together a few fail proof pieces to help you create that backyard oasis look in your own home.
1. Pendant from Eight Degrees South | 2. Jerome Outdoor Barstool from Block & Chisel | 3. Sapajou Noir Cushion from Block & Chisel | 4. Tribal Stripe Cushion Cover from Eleven Past | 5. Palmetto Tarmac Cushion from Design Store | 6. Lauren Lounge Chair from Pezula Interiors | 7. Umtsala Round Storage Basket from Pezula Interiors | 8. Contemporary Steel Firepit from Weylandts | 9. Boston Garden Bench from Plasir du Jardin | 10. Premium Beach Umbrella from Pezula Interiors | 11. Piazza Wicker Sun Lounger from Mobelli | 12. African Contemporary Towel from Knus | 13. Boulder Pot from Weylandts