We are back at the styling game today. Keeping your kitchen countertops free of clutter is something we feel pretty strongly about at The Home Studio. However, we do understand that there are certain items that need to be easily accessible – especially around the cooking area.
Admittedly it can be a fine line between tidy and messy when you can't realistically leave this space completely clear. But often we find that the countertop is so full that you're left with hardly any room to prep your food.
These small steps to organising your kitchen countertop go a long way.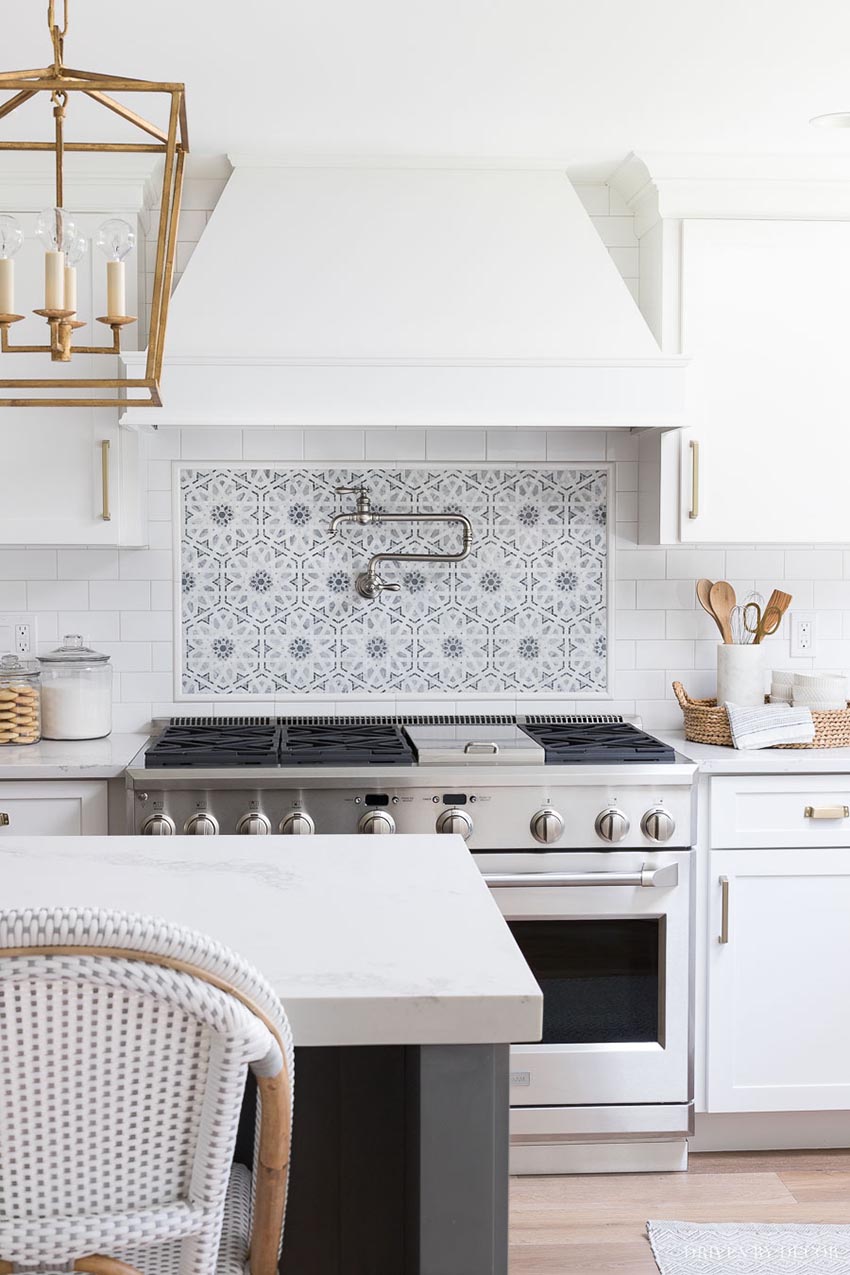 First, declutter. Let's separate items into what is really necessary and what we need on occasion. Sorting your counter into functional zones goes a long way to keeping your space organised and tidy. We know this isn't rocket scientist, but by keeping items grouped in one place, you achieve an intentional and styled look whilst ticking all the practicality boxes.
And the easiest trick in the book to pull it all together is a tray or basket.
If you really want to up your styling game – consider including items on your tray in varying heights and textures. Add some greenery and a couple of wooden chopping boards against the wall and Voila! Clutter-free and stylish countertops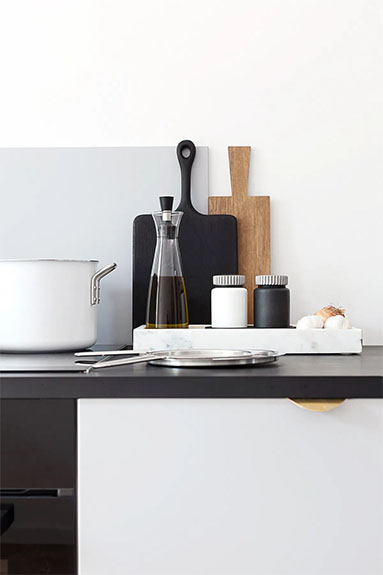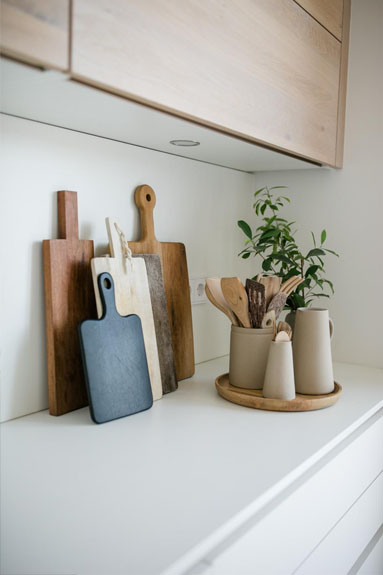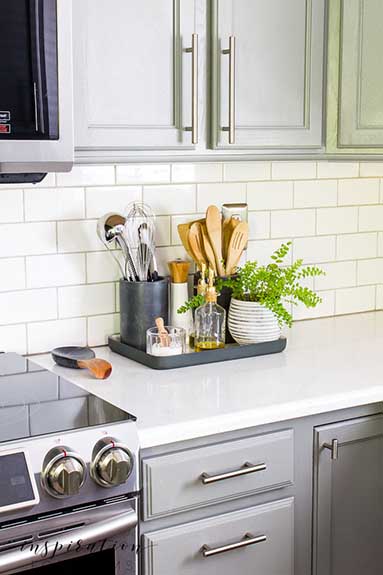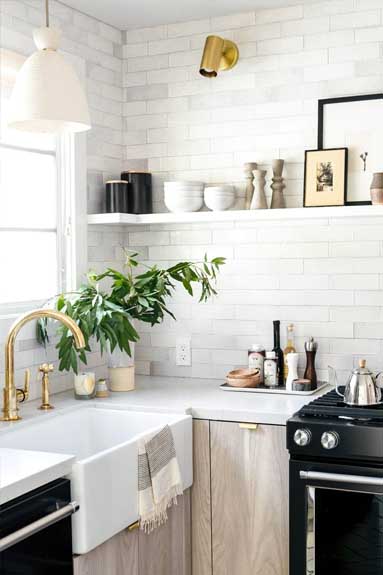 Even when you're entertaining, this approach can keep your countertop looking organised and pretty. By stacking cutlery and plates onto a large cutting board or tray, you have everything you need in one place and it makes it easy to carry it all around as needed.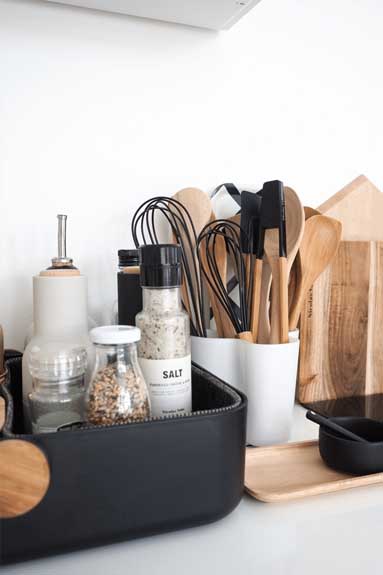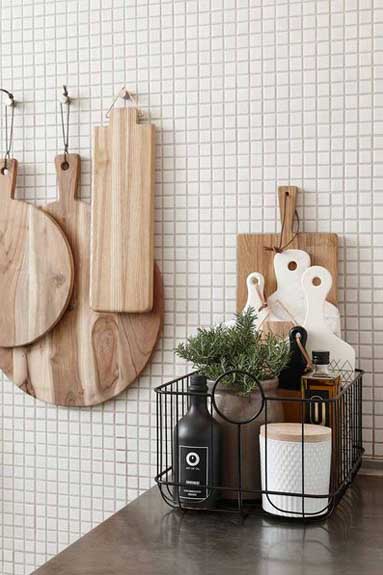 Have a look at these four tray combinations for inspiration to help you achieve the winning looking in your kitchen,. and find the perfect solutions for your own space.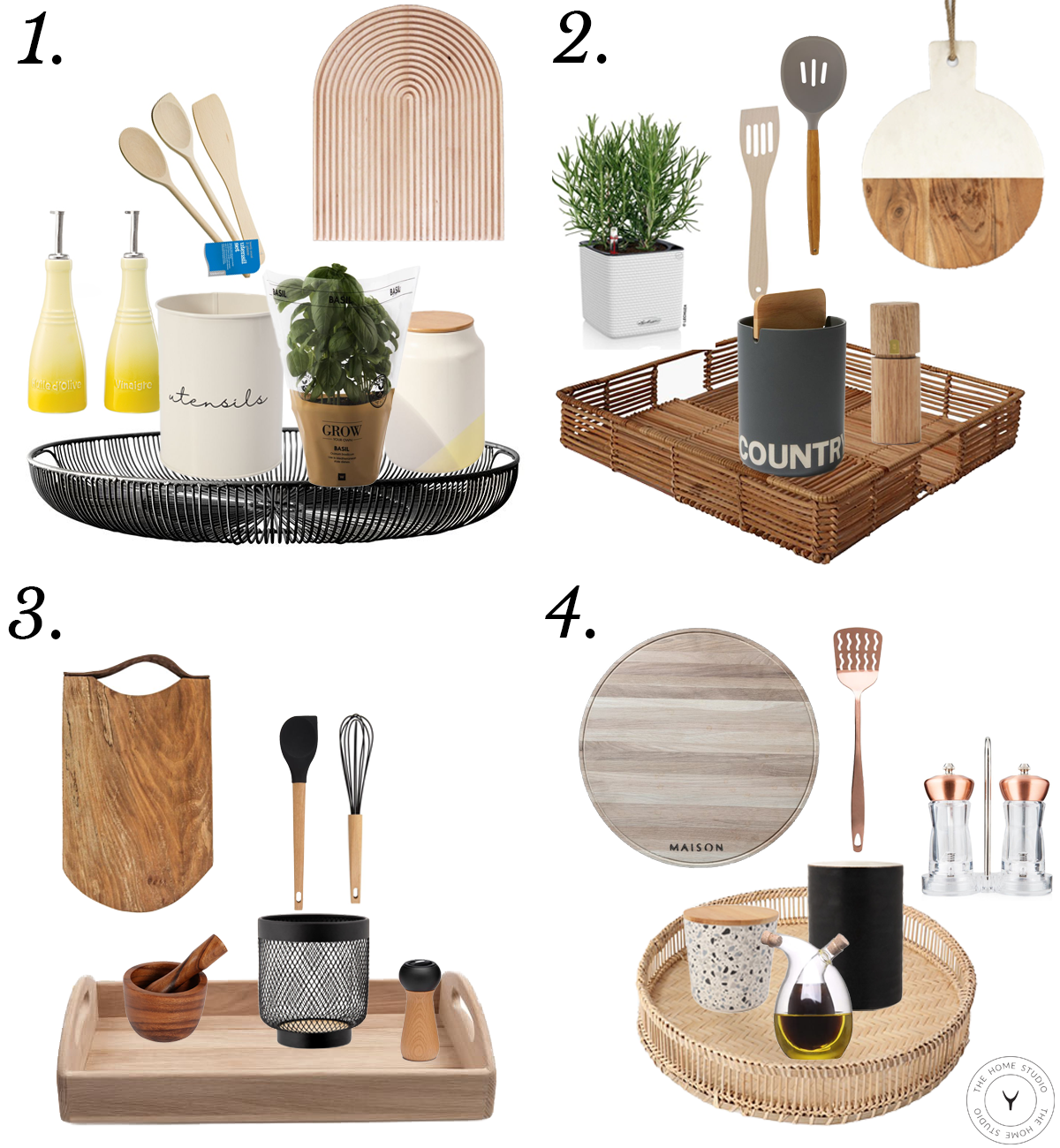 1. Serving/Cutting Board from Deft | Beechwood Set of 3 Utensils from Yuppiechef | Oil & Vinegar Set from Le Creuset | Galvanised Utensil Holder from MRP Home | Potted Basil from Woolworths | Splotch Ceramic Canister from MRP Home | Wire Platter from Weylandts
2. Self-Watering Planter from Yuppiechef | Slotted Wooden Spatula from Weylandts | Slotted Spoon from Yuppiechef | Marble & Wood Chopping Board from @home | Country Road Utensil Holder from Woolworths | Country Road Small Grinder from Woolworths | Woven Rattan Tray from MRP Home
3. Strap Chopping Board from Woolworths | Silicone & Wood Spatula from Woolworths | Silicone & Wood Whisk from Woolworths | Wooden Pestle & Mortar from MRP Home | Carbon Steel Utensil Holder from Woolworths | Beechwood Grinder from Yuppiechef | Tea tray from Yuppiechef
4. Round Cutting Board from Weylandts | Copper Plated Lifter from Woolworths | Copper Plated Grinder Set from Woolworths | Artex Woven Tray from MRP Home | Chilton Bamboo Canister from MRP Home | Ceramic Utensil Holder from Woolworths | Oil & Vinegar Pourer from Yuppiechef