On Monday we looked at makeover ideas and inspiration for our bedroom redesign, and the housemate came back with a decision. While the oh sooo soothing and serene beach vibes from the all white look got a thumbs up in theory, apparently in reality living in a very white, clean space would not be compatible with my OCD issues. So dark and moody bedroom space it is.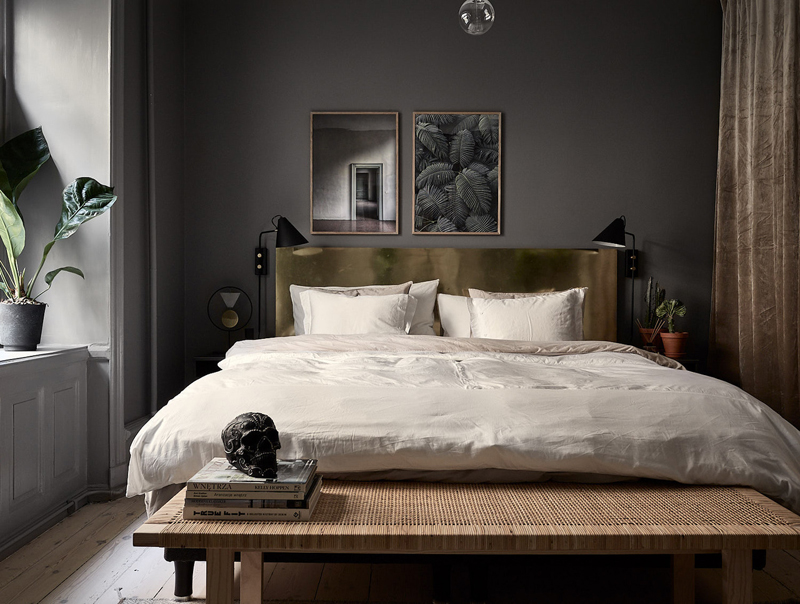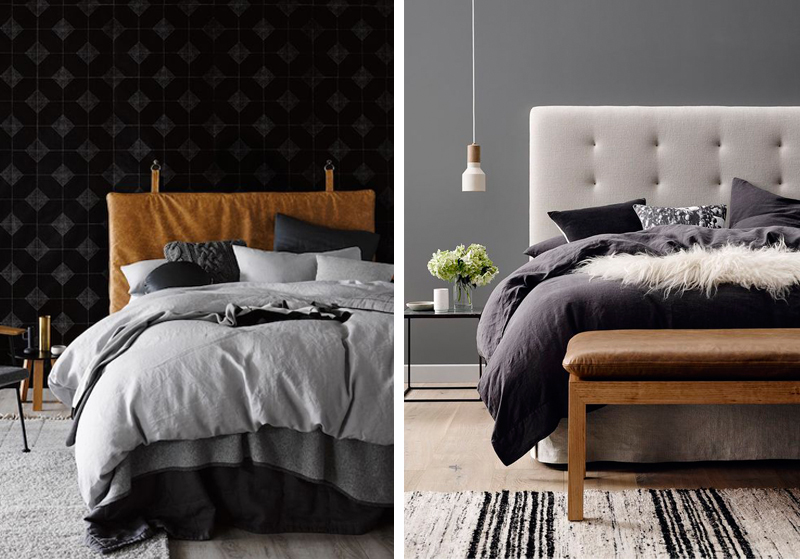 Today we've take our inspiration images and shown you how to get the look at home, working across 3 different budgets.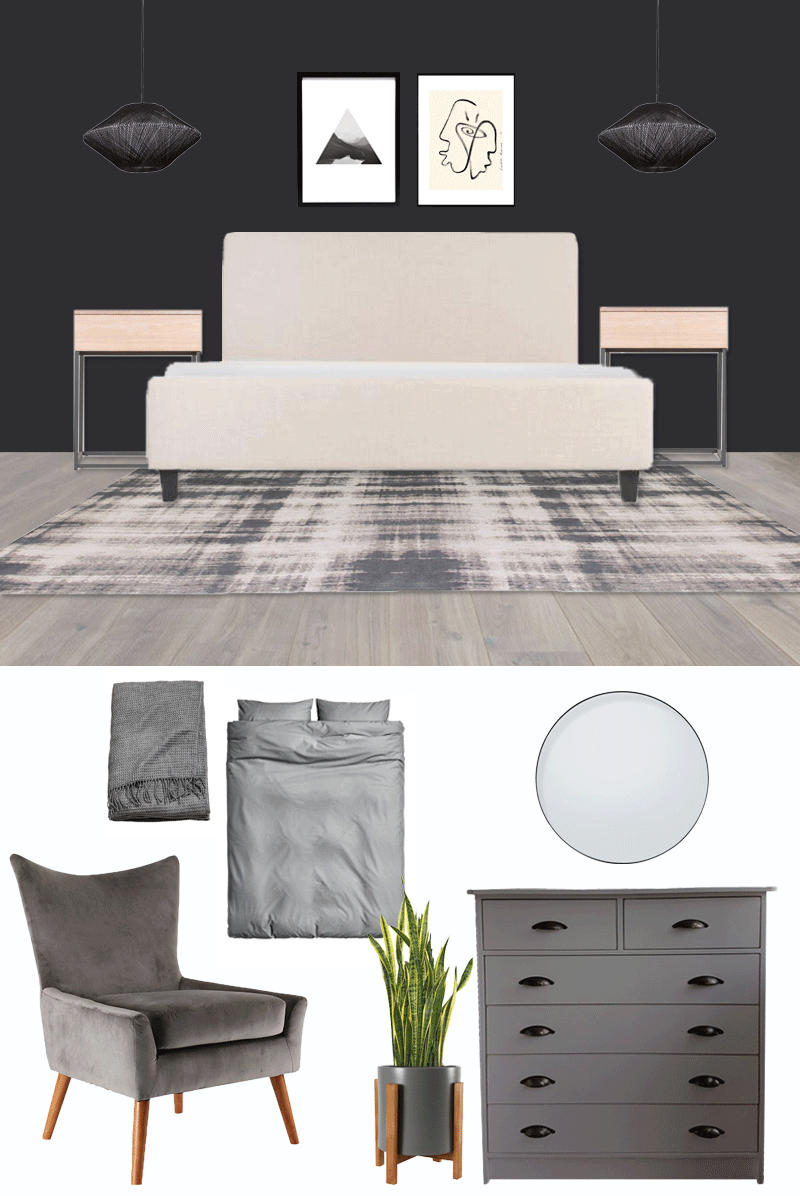 As always we try to source from local South African retailers so it's easy for you to go out and get the look at home. We used Plascon Dark Onyx (42) paint for the walls and opted for a wide wood flooring with a grey wash over concrete flooring, which ultimately came across as too harsh.
Starting off with our budget room, I love that this look has a slightly more feminine edge thanks to the softer cream of the bed frame and light wood bedside tables.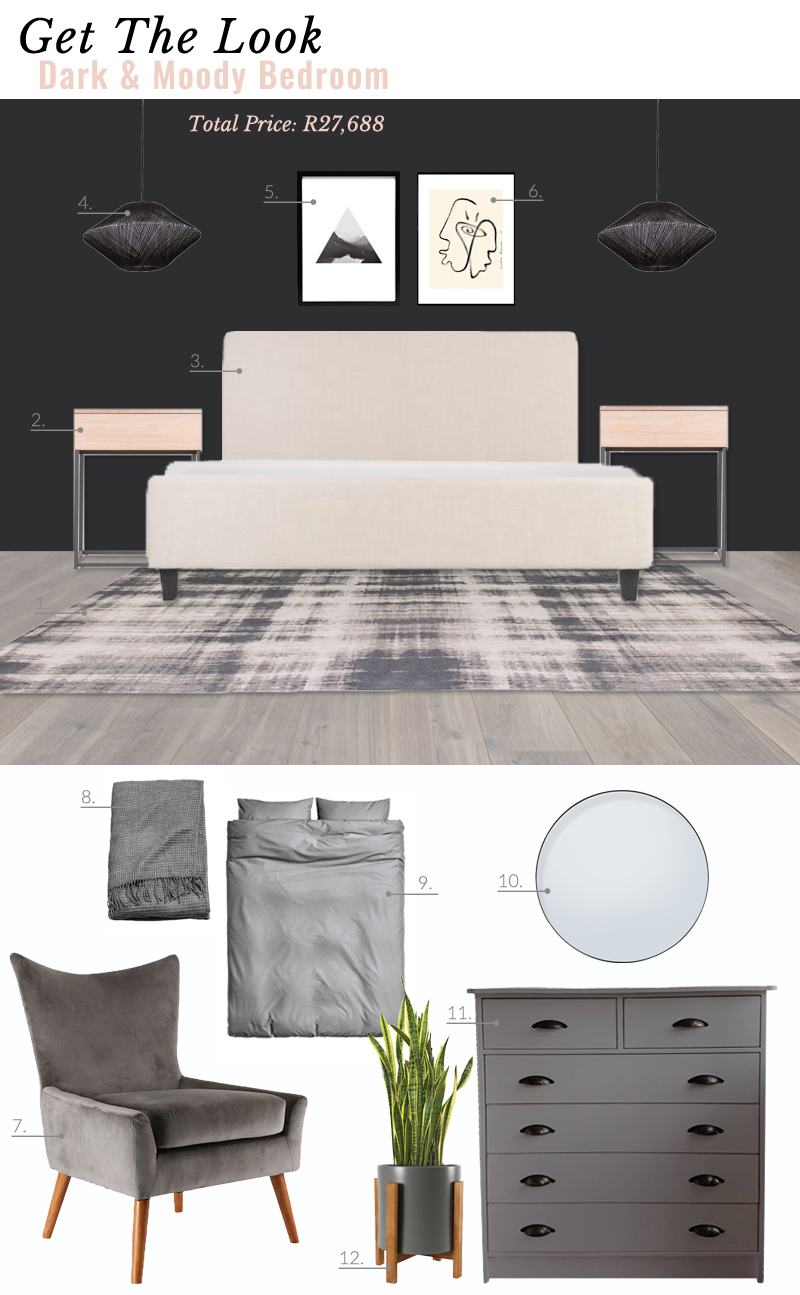 1. Chenille Paintbrush Rug from MRP Home | 2. Euro Pedestal from @Home | 3. Angela Bed from @Home | 4. String Pendant from Eleven Past | 5. Grey Mountain Print from Superbalist | 6. LouLou Print from The Poster Club | 7. Chloe Chair from MRP Home | 8. Grey Throw from H&M Home | 9. Grey Cotton Bedding from H&M Home | 10. Deep Frame Mirror from Eleven Past | 11. Chest of Drawers from Pine Options | 12. Stockholm Planter from MRP Home
Our mid-range budget ups the drama with the juju hats above the leather bed. The rest of the space is chic and contemporary using minimalist style furniture, while sticking with grey and black accent pieces. The lighter coloured rug softens the space out.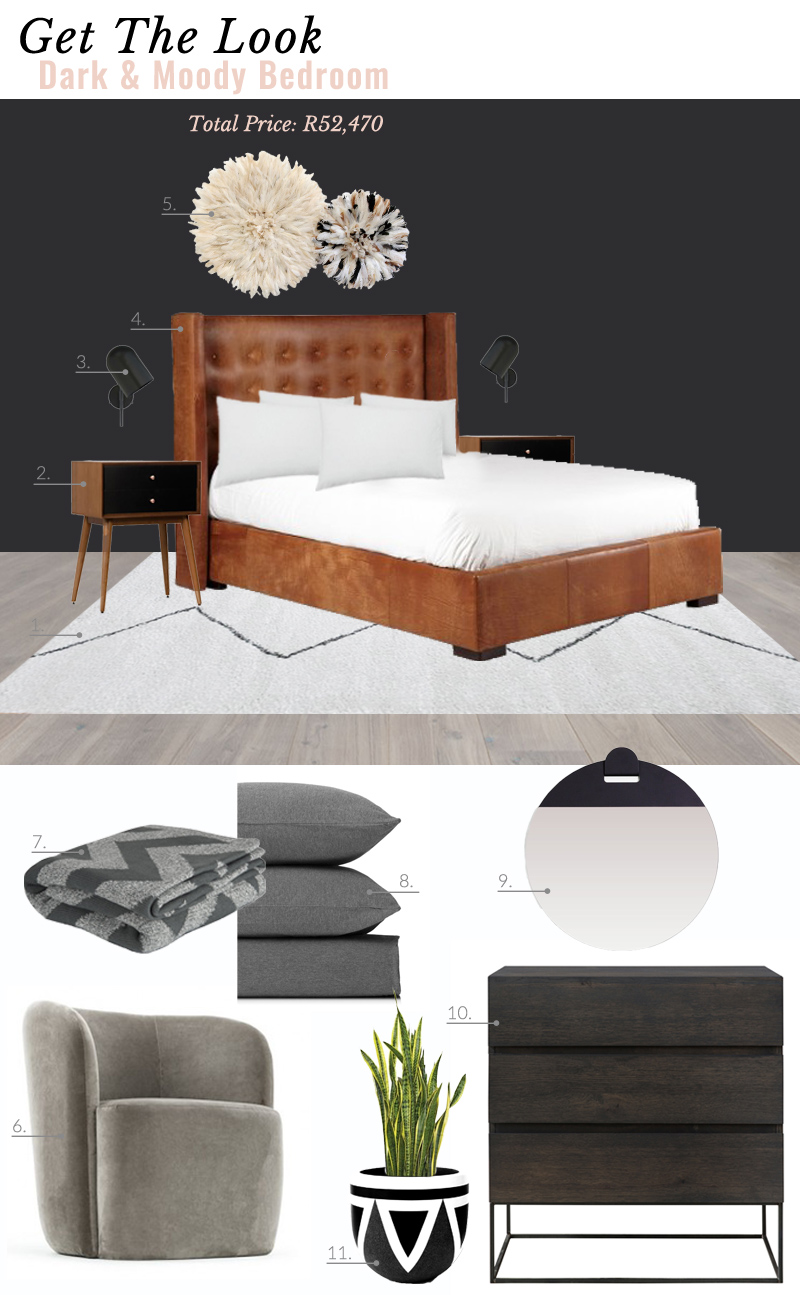 1. Tangier Rug from Hertex | 2. Mid Century Pedestal from @Home | 3. The Tinker from Studio 19 | 4. Benton Bed from Coricraft | 5. JuJu Hat from Tribal Trends | 6. Betty Chair from Sofa Company | 7. Chevron Throw from Woolworths | 8. Cotton Jersey Duvet Set from Woolworths | 9. The Lick Mirror from Knus | 10. Rod Chest of Drawers from Weylandts | 11. Charcoal Youth Planter from Knus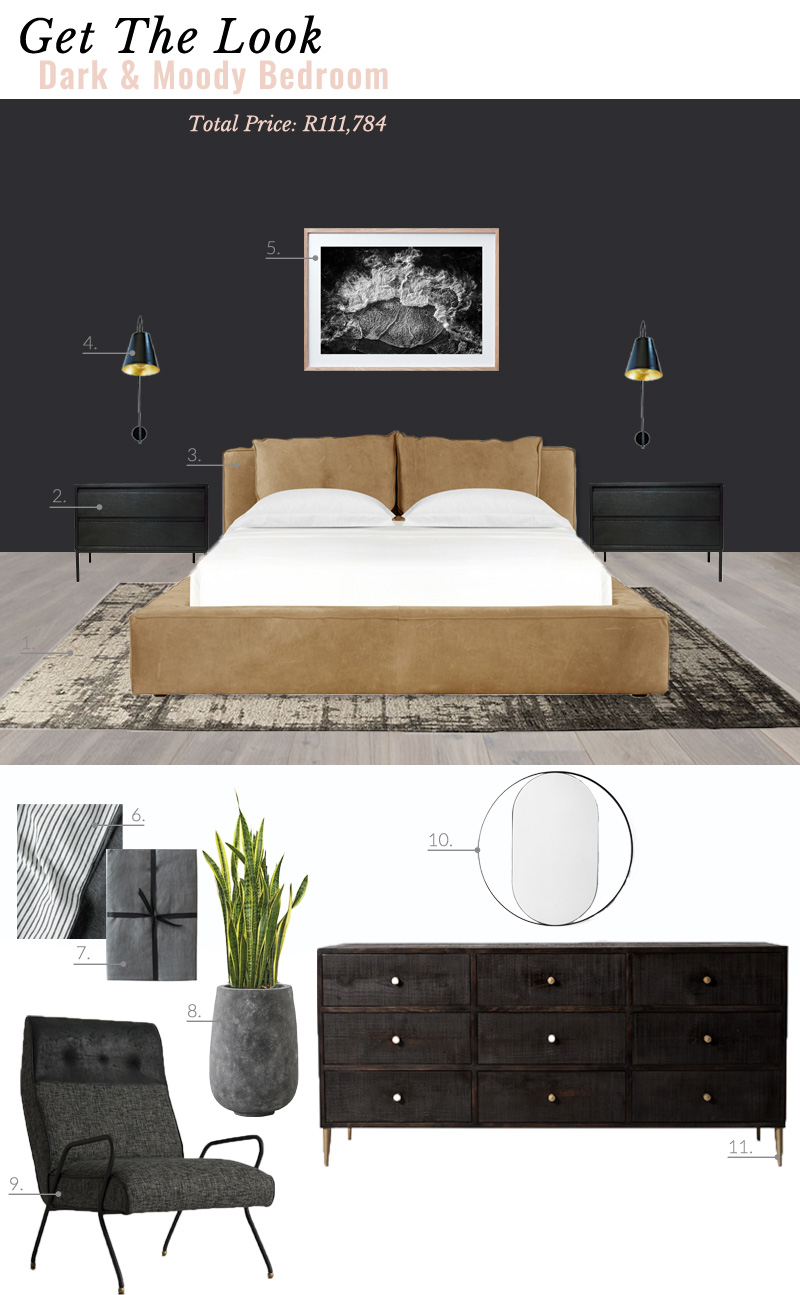 Of course I love the luxe room, pushing way past budget boundaries for many of us! The clean and contemporary lines are really brought home with these selection of pieces. Like in the other designs, even though the bed is lighter in colour, the overall feeling in the space is still dark and moody.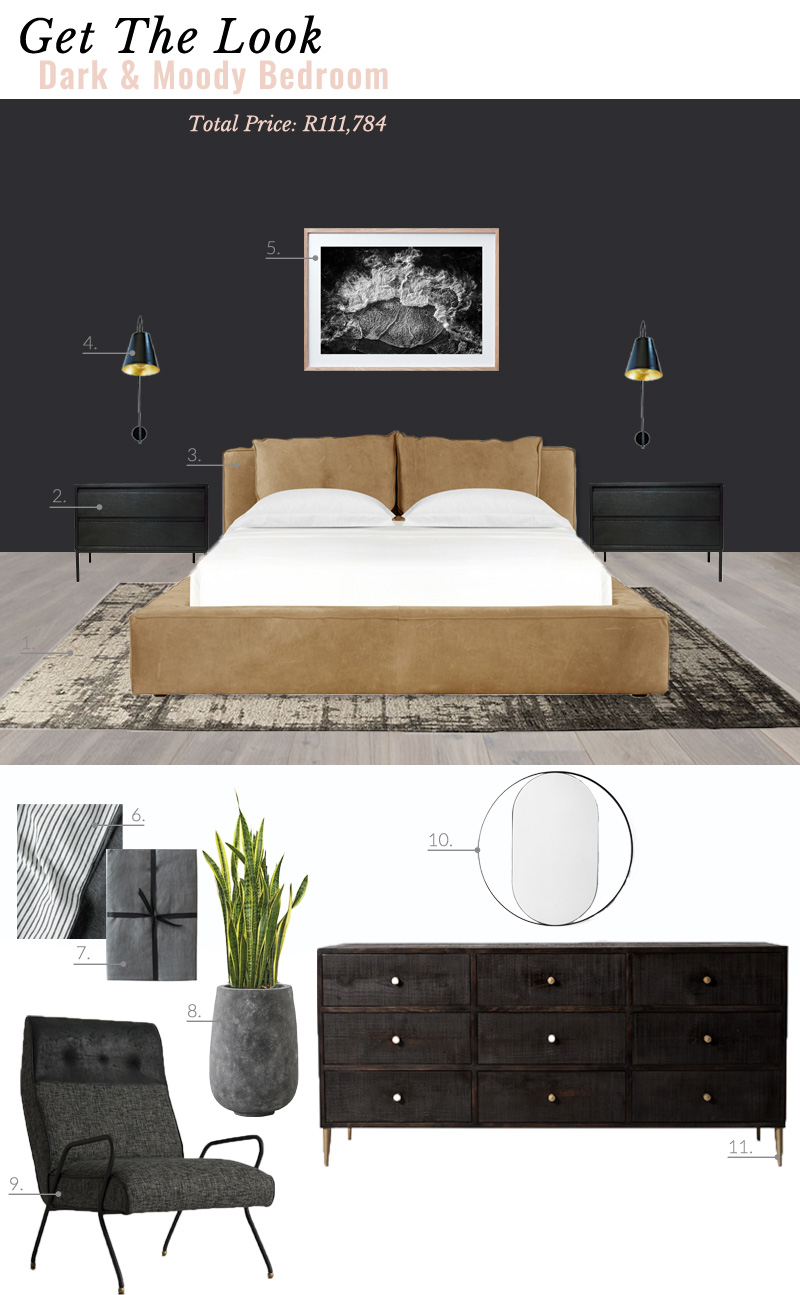 1. Barolo Rug from SHF | 2. JK Bedside Table from Anatomy Design | 3. Delta Bed from Weylandts | 4. The Klein from Studio 19 | 5. Wave Platform from Aquabaumps | 6. Kode Quilt Cover from Woolworths | 7. Linen Duvet Cover from Weylandts | 8. Black Cigar Planter from Weylandts | 9. Harrison Chair from SHF | 10. Mirror O from Doctor & Misses | 11. Visi Sideboard from SHF
SaveSave
SaveSave
SaveSave
SaveSave
SaveSaveSaveSaveSaveSaveSaveSaveSaveSaveSaveSave
SaveSave
SaveSave