We're back at our House G project and we thought it was probably a good idea to give you a quick recap before we launch into the next phase. The previous owners lived in the house for over 40 years, so this Vredehoek based house is going through a three phase renovation process.
Phase I – Phase one focused on necessary liveable spaces for the clients inside the house, and a few exterior cosmetic updates. This was mostly completed prior to the client moving in. This included updating three bedrooms, creating one family bathroom and laundry space, and a home office for our clients. All these spaces are located on the upper level (street level) of the house. As part of this phase, we also started on what will be the upstairs living space, or pyjama lounge, but the completion of this hinges on phase three.
Phase one also unintentionally included a lot of landscaping, which we have shared just a little bit of so far and will be delving into more of soon.
Phase II – This is "the big" part of the renovation. What is happening is we are flipping the current living spaces from the upper level to the lower level. This is so that our clients can have their kitchen and living spaces on the same level as the swimming pool and garden, giving them easy access to the outdoors, and also the ability to keep their eyes on the two little ones running around.
This will involve us combining a garage, store room and former office into one large open space, as well as working around a staircase and using all our design savvy to make the relatively tight space feel spacious, open and light.
Phase III – Once all the living spaces have been safely brought downstairs, we need to head back upstairs and remove the current /old kitchen. The former kitchen and guest bathroom are then getting reworked into a main bedroom with en-suite for our clients.
And of course once all the dust and rubble has been removed, we can finish off the landscaping process.
As with any renovation process, costs are escalating and there have been a fair few unexpected surprises (as well as requested add-ons), so we are walking the tightrope of reigning in the budget while not compromising on style and finishes.
House G + Kitchen Concept One: The White Kitchen
As we move into Phase Two, our first focus is on the kitchen design, which is especially relevant given our focus on entertaining at home this month. Since our clients have formerly been serial renters, this is the first opportunity they've had to potentially implement all their kitchen dreams and desires. You know, before budget and reality kick in! They spent a lot of time thinking about what they own, where and how it will get stored and how they like to use their kitchen. Then handed us all the details and we got to work on the layout.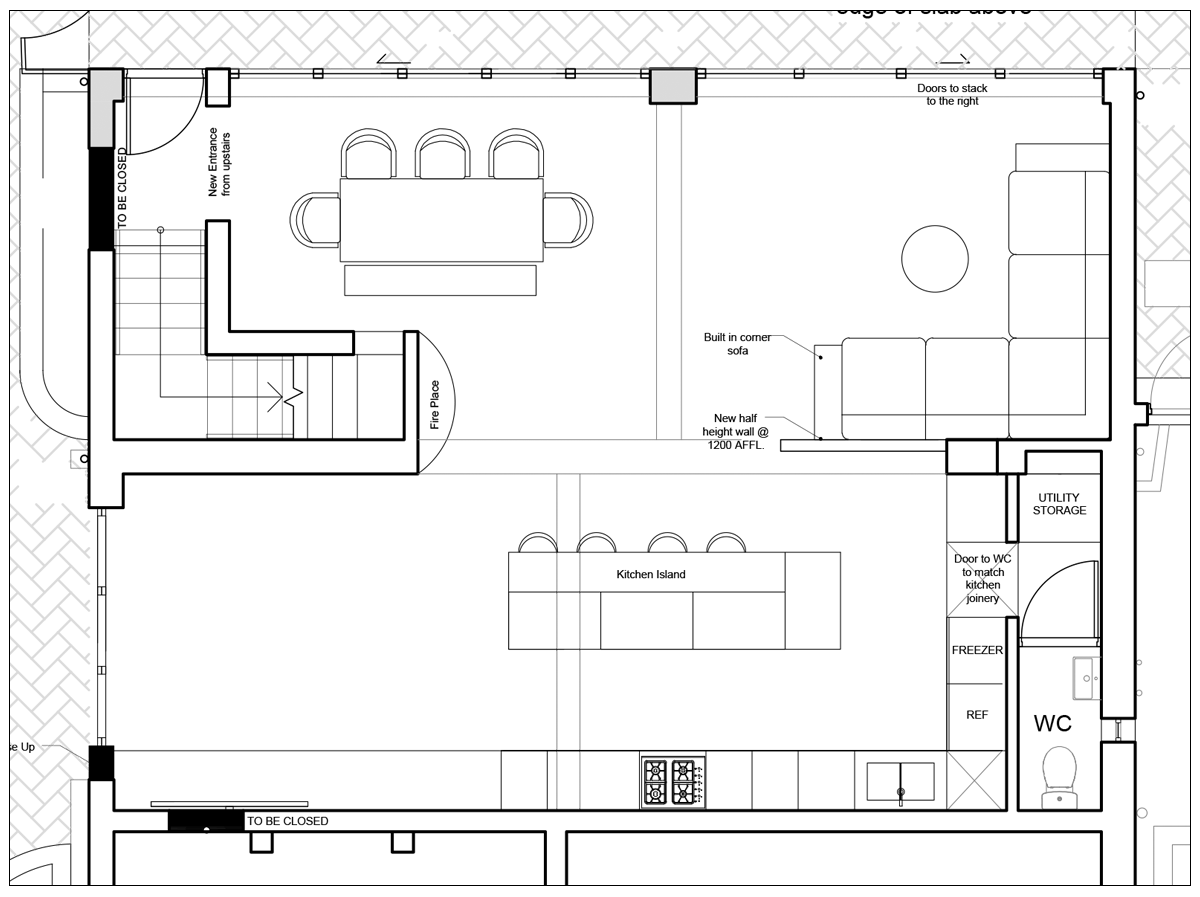 We are going to spend some talking through kitchen layout and storage ideas later, but right now we're just showing you the overall layout for the lower level space, so you can see how it wall works together. As far as design goes, we are putting a lot of focus on the overall concept for the kitchen space, since our clients have no strong opinion on how they want their kitchen to look.
Given the our landscaping concept hinges on something like this image…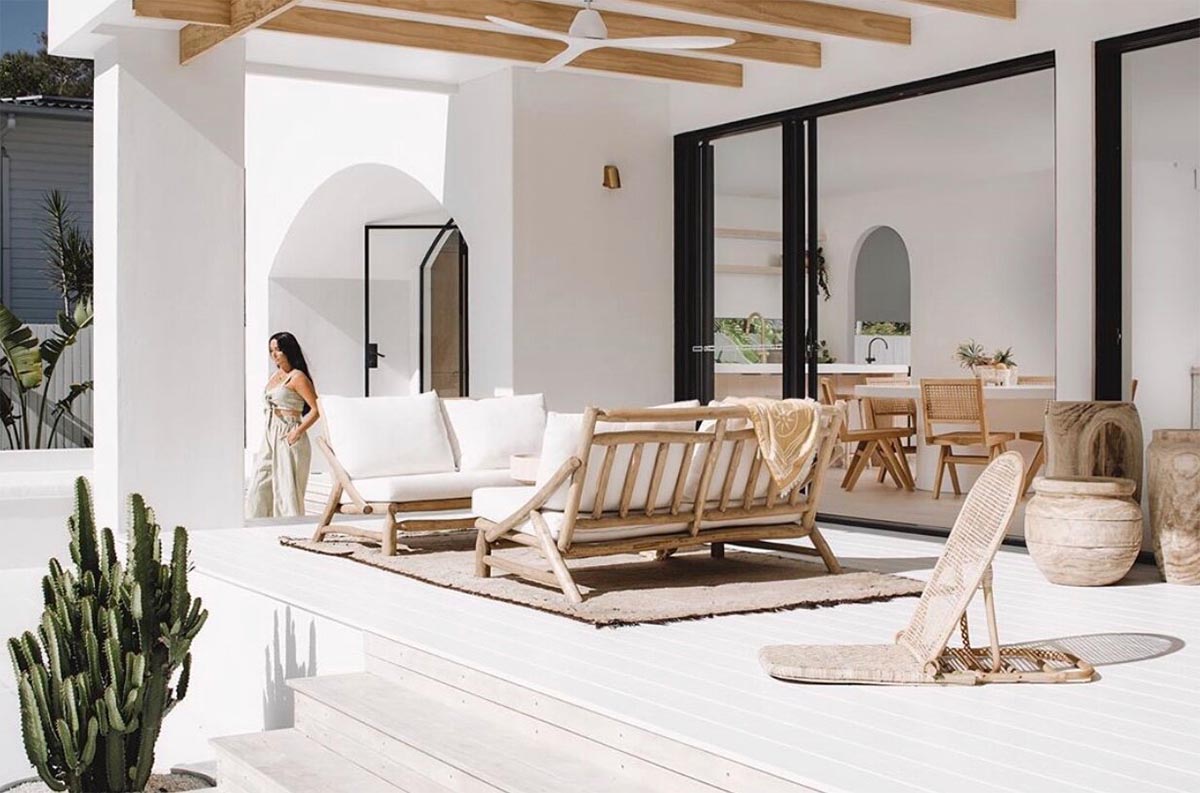 Image
….. it feels only natural that the kitchen should incorporate this white Mediterranean style too. However as the design process has unfolded our clients are becoming more and more aware of how much they enjoy having colour in their home, so are very hesitant to commit to an all white kitchen. Which brings us to our next question.
Are The Days Of White Kitchens Gone Forever?
It's amazing how white interiors can be quite polarising. Some find the colour inspiring and fresh, while others find it boring or cold. In the design world there has been a big shift away from "safe" white kitchens in favour of colour and different textures. However we know that by layering in different textures, an all white kitchen can be soft and enveloping.
For the kitchen at House G, while we are in favour of an all white kitchen, we know that the style needs to be fairly contemporary to suit the space as a whole. We love ourselves our farmhouse kitchen in the right setting, but for this project we are focused on fairly minimal spaces that focus on texture and interest through the materials.
Notice the mixed use of materials in the kitchen below. The wood panelled cupboards add warmth to the room, and let the marble splash back shine.
The wood flooring in this white kitchen adds a new dimension to the space, but notice how the lower cabinets are not pure white. A slight ivory tint to the cabinets plays nicely against the whiter countertops.
In this white kitchen there is lots of lovely contrast amongst all the finishes but without any pattern or really ornate lines, giving the space a very clean and contemporary style.
White minimalism doesn't mean not designed, or just unintentionally empty. Instead it's a delicate toying with finishes and tones, with an extreme eye for the exact right finish.
The Not So White, White Kitchen
To bring an element of colour into the kitchen area and show our clients how to incorporate colour into the space, we also floated the idea of a colourful kitchen island in an otherwise all white space.
We love the vibrancy of this green as it echoes the colour of the swimming pool and in our minds is a small nod to the Mediterranean ocean.
What do you think. All white or bring in some colour?
Join us back here next week, as we talk through House G and Kitchen Concept Option Two.