When we all envision our dream homes we are sure there is a beautifully designed room dedicated to deal exclusively with the endless cycle of washing, drying and ironing. In our real homes however the reality often consists of a washing machine (and dryer if you are lucky) joining the rest of your kitchen, or being housed in the family bathroom, or even out in the garage.
Regardless of location, there is no reason why your small laundry space can't be both well designed and lovely to look at. We've recently designed three laundry spaces with very small proportions, and this is what we've got to share with you.
The Bathroom Laundry
In House D our laundry facilities needed to be housed within the bathroom. Working in a small space means something's got to give, and when you're combining a bathroom and laundry, chances are you'll find yourself having to decide on whether to prioritise bench space or floor space. Stacking your washer and dryer will free up floor space, but could reduce the amount of available bench space (and wall shelving space, for that matter).
Our preference is to stack. This way both units can be housed in a single cupboard, the design of which can be integrated seamless into the overall bathroom design. This is what we opted for in House D. By going floor to ceiling with the cupboard we were able to create additional storage above the units. Just remember to allow for adequate ventilation if you have a dryer placed in the cupboard.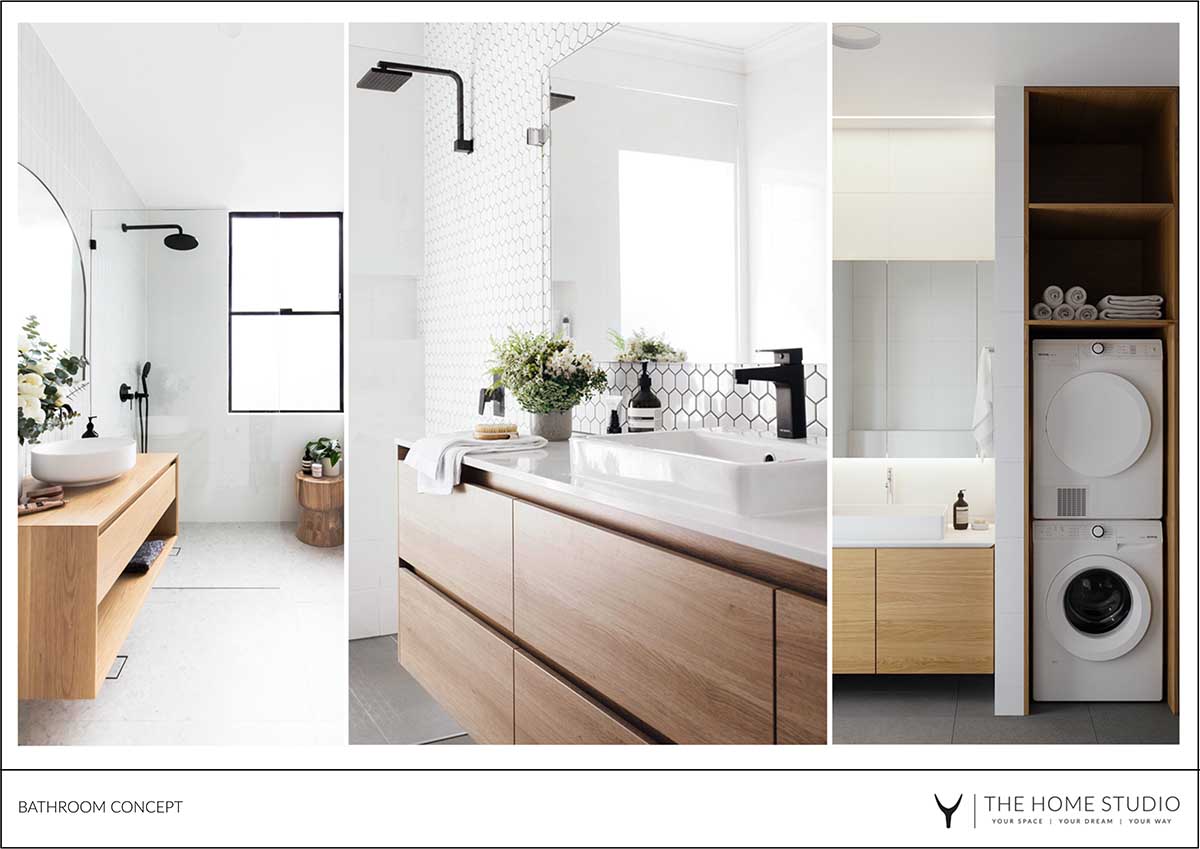 Small Landry Room
Another compromise in a small laundry room is often whether you are going to choose storage over installing a dryer. The extra storage will likely come in handy, but it does put your drying schedule at the mercy of Mother Nature.
For House G we've created a small laundry room that annexes the family bathroom. Since the two spaces share the same flooring – a natural stone tile – we're creating a calming laundry room grounded in shades of white and pale gray.
In this space we've opted for a side-by-side layout, as placing the washer and dryer next to each other creates a handy surface to place and fold clothes. This also leaves the upper wall available for additional storage, such as open shelves for your washing powder and other laundry essentials. For House G we opted for two open shelves and have an included a clothing rail attached to the bottom shelf – a great accessory for the ironing queue. It also does duty allowing you to have clothes drying on hangers and reduces ironing time.
Since the space is next to to the bathroom, we decided not to include a sink in the design. Should push come to shove our client flat they could use the sink or bath as needed.
On the opposite wall we created a laundry cupboard, designed to hold drying racks, brooms, a vacuum cleaner, buckets and all cleaning products. Being able to close off these laundry essentials creates a seamless clutter free space, which is essentially important in this layout given everyone walks through the Landry to access the family bathroom.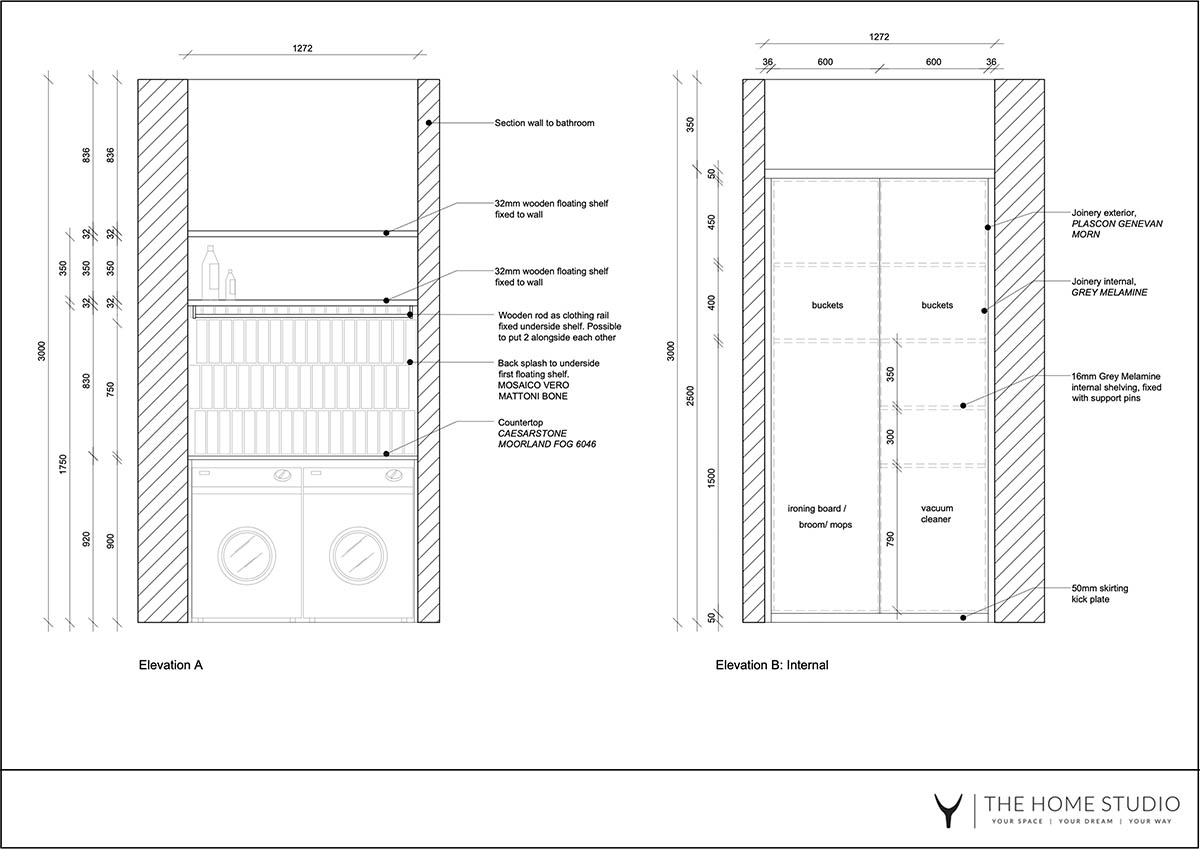 The Garage Laundry
Placing your laundry in the garage usually offers good access to the outdoors, either for a clothing line or just to hang wet clothes outside. Having the laundry placed away from bedrooms and living areas helps with noise reduction.
When it comes to creating your laundry in a garage, you'll likely have to make most of the same choices regarding space and layout. However given the location it is also important to ensure the laundry area feels fresh, clean and hygienic within the overall garage space, and the flooring plays a large part in achieving this.
If your garage floors are nicely finished with a simple concrete base, then you're off to a good start, and it's really easy to build you laundry on this surface.
For the garage laundry we created at House M it was necessary to tile the floors, so we took the opportunity to add interest and visually demarcate the laundry area within garage. Using feature tiles with a lovely heritage pattern we were able to create a pretty laundry 'zone' in the otherwise functional garage.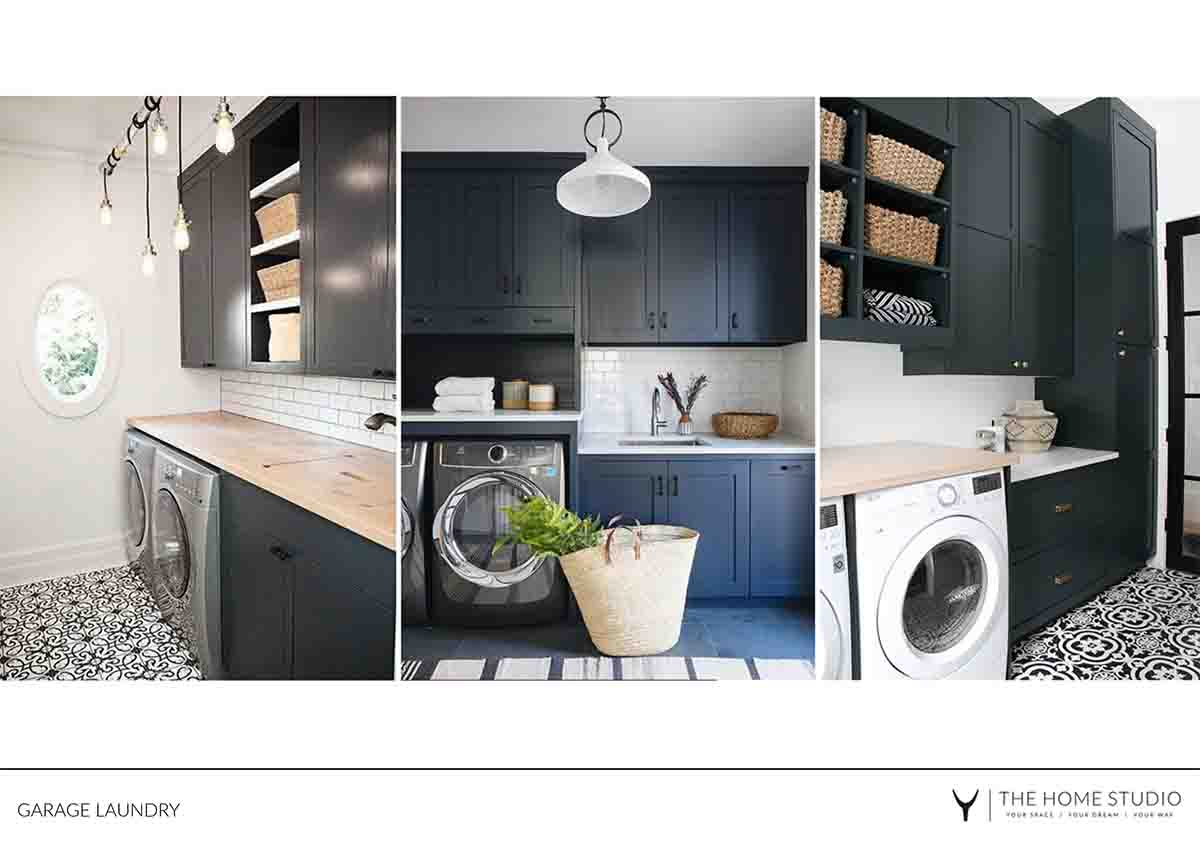 All of these spaces are either under construction or just finishing off, and we can't wait to show you the After pictures soon!