As we mentioned on Tuesday, there is nothing quite like a quick and budget-friendly refresh to put a spring in your step. And one of the easiest ways to achieve this – especially during the change of the seasons – is with a scatter cushion refresh.
Scatters and scatter cushion combinations seem like an easy enough concept, right? You should be able to walk into your favourite home store, pick up a few pieces that catch your eye and then Voila you're done. But for some reason, for many people it just doesn't work out that way.
To help you along today we're talking about how to create the perfect cushion combinations, whether it be on a bed, bench or sofa.
Starting off, it is important to get the size proportions and shapes of cushions correct. The best combinations have a variety of different sizes and shapes, taking into account the size of the surface you are working with. In other words, don't fill a small sofa with five large cushions or a king sized bed with eight tiny ones.
Remember to keep a cohesive colour palette. Whether you are going for a completely neutral palette or one with a combination of colours – focus on 2 or 3 colours that you'd like to accentuate and select your cushions with those colours in mind. Even better is choosing one particular colour and bring in different tones within that colour range.
This is especially key because cushions are a great way to highlight a specific colour in your home, whether it references a beautiful vase of flowers or even picks up a tone in an artwork, nothing ties colours together quite like scatter cushions.
A variety of texture is also important to prevent the space from looking dull and flat. For example bringing in four scatter cushions all in a plain cotton fabric will look very unappealing, which can easily happen when sourcing budget cushions from the same supplier.
This is also especially relevant when using when working with neutral tones only. Mixing velvet, linen, suede, macrame, fringes and woven fabrics creates interest and tactility. It also goes a long way to your scatters and setting looking far more plush and luxe than it really might be.
Varying patterns create balance and interest. Patterns can be categorised into two groups: organic and geometric. Organic shapes such as florals, abstracts and botanicals work well in combination with geometric shapes such as checks, stripes and modern shapes. Considering the scale of pattern and ensuring the patterns you've chosen have varying scales, helps create balance and allows the eye to move easily over the selection without being overwhelmed.
If you are still not quite sure how to put it all together, here are some ready-made combinations for you…
Neutrals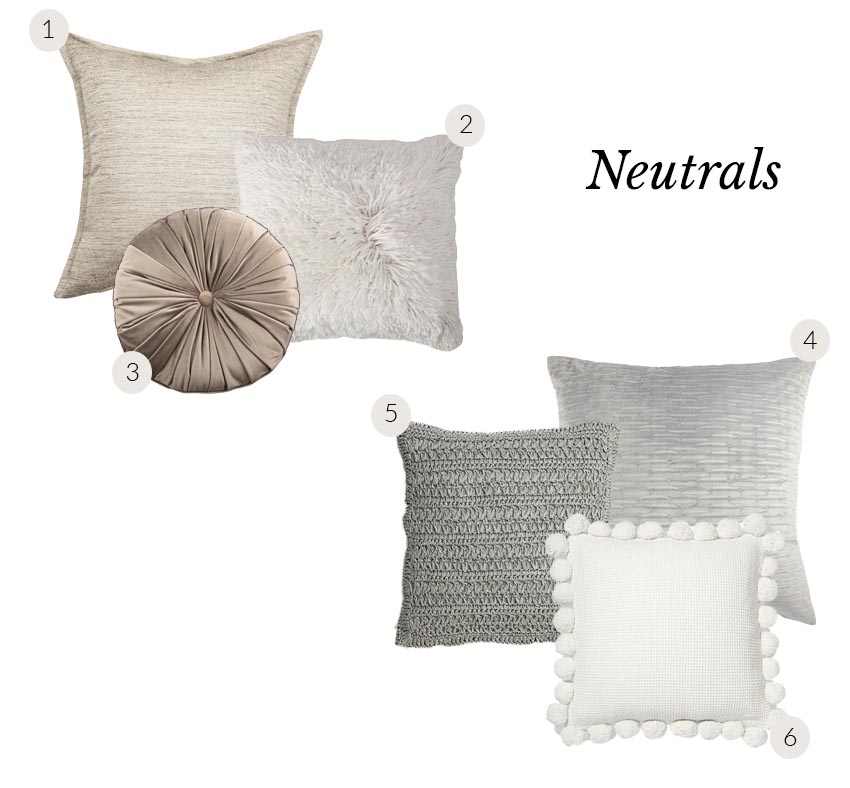 1. Grace Scatter Pillow from @home | 2. Faux Fur Shaggy Scatter Cushion from MRP Home | 3. Round Velvet Scatter Cushion and | 4. Velvet Silver Pleated Scatter Pillow from @home | 5. Willow Woven Cushion Cover from Superbalist | 6. Country Road Asla Cushion from Woolworths
Neutrals + Pattern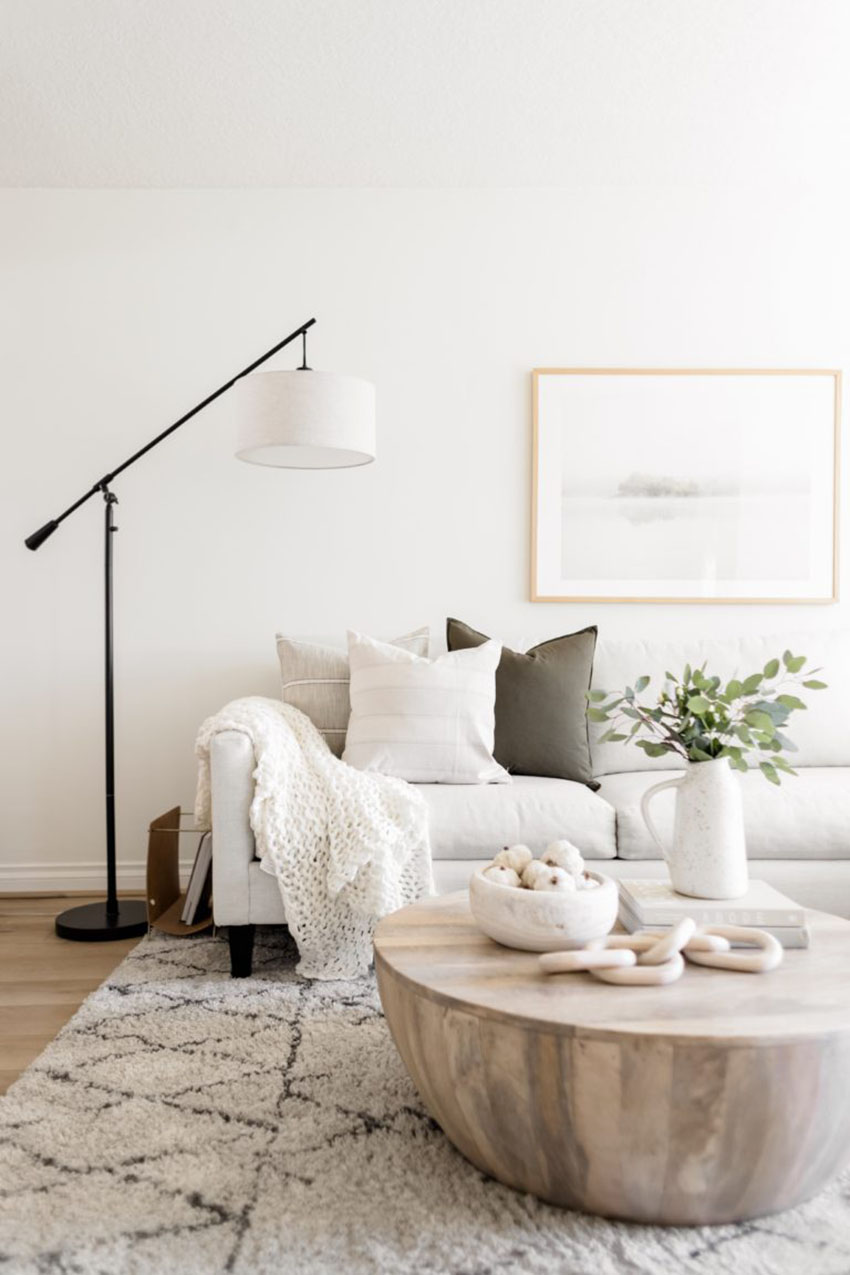 Image Source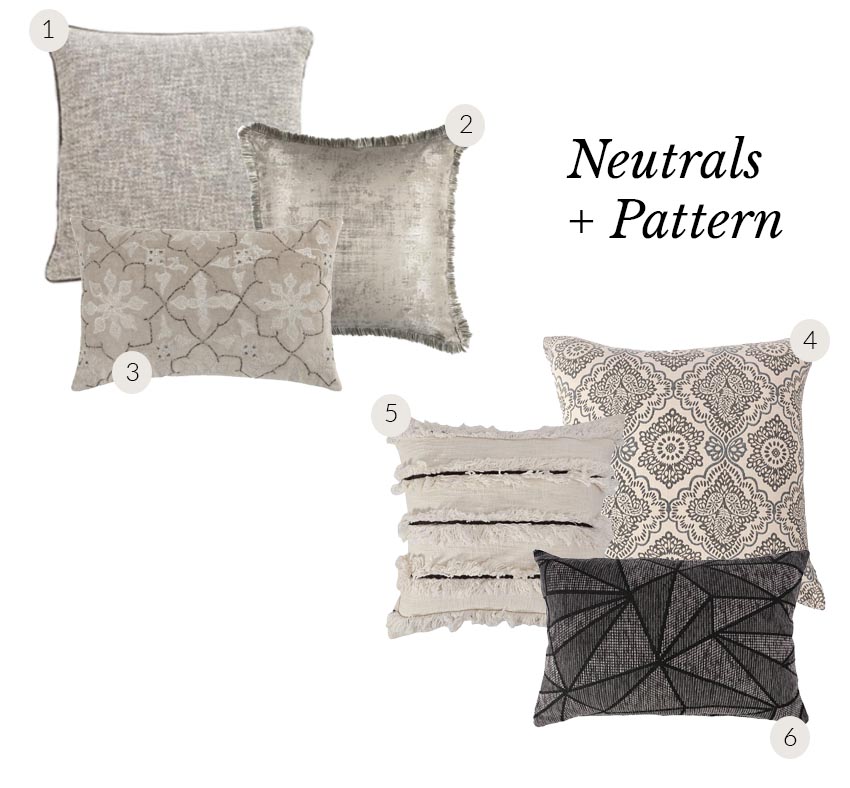 1. Dante Cushion Cover from Superbalist | 2. Benti Short Fringe Scatter Pillow and | 3. Floral Embroidered Scatter Pillow from @home | 4. Jacquard Isles Cushion | 5. Tufted Trellis Stripe Scatter Cushion and | 6. Chenille Diamond Scatter Cushion from MRP Home
Colour + Pattern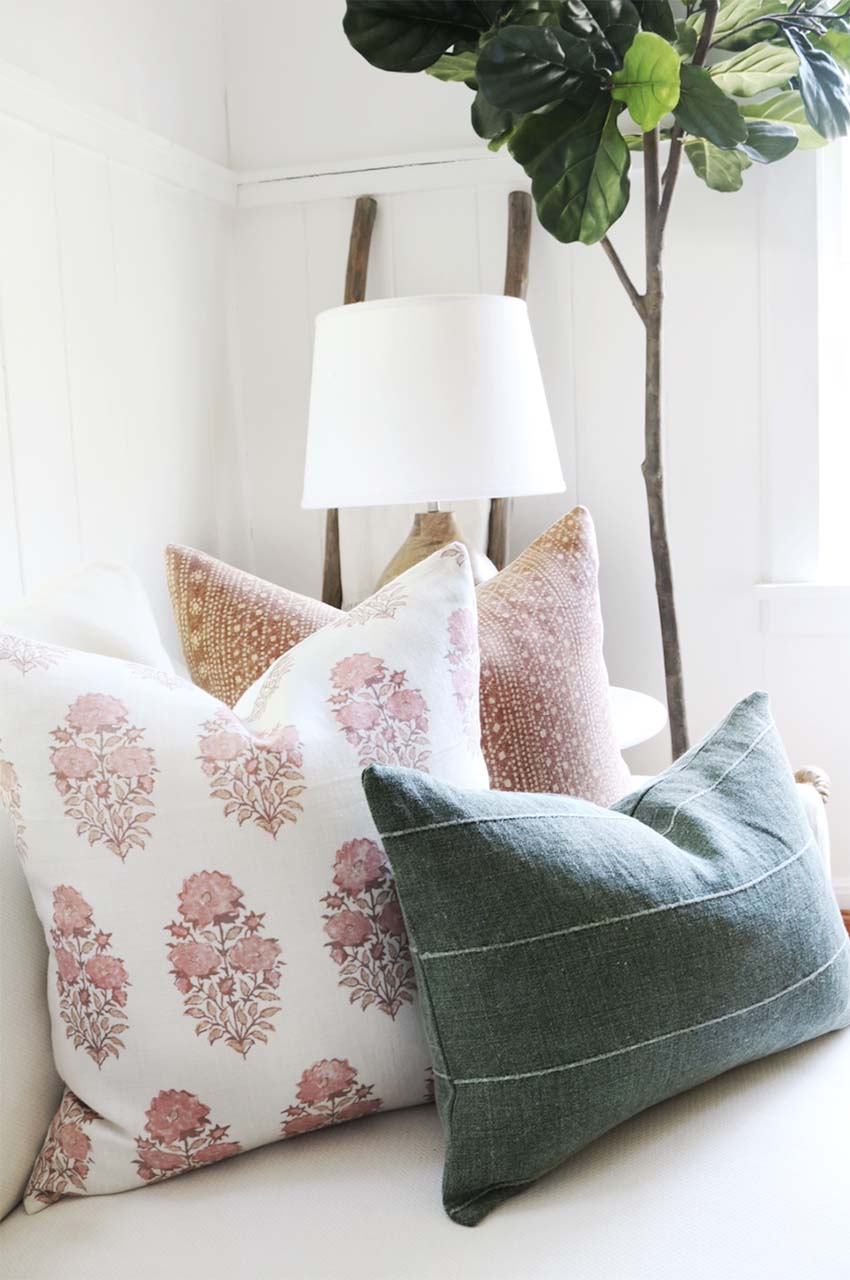 Image Source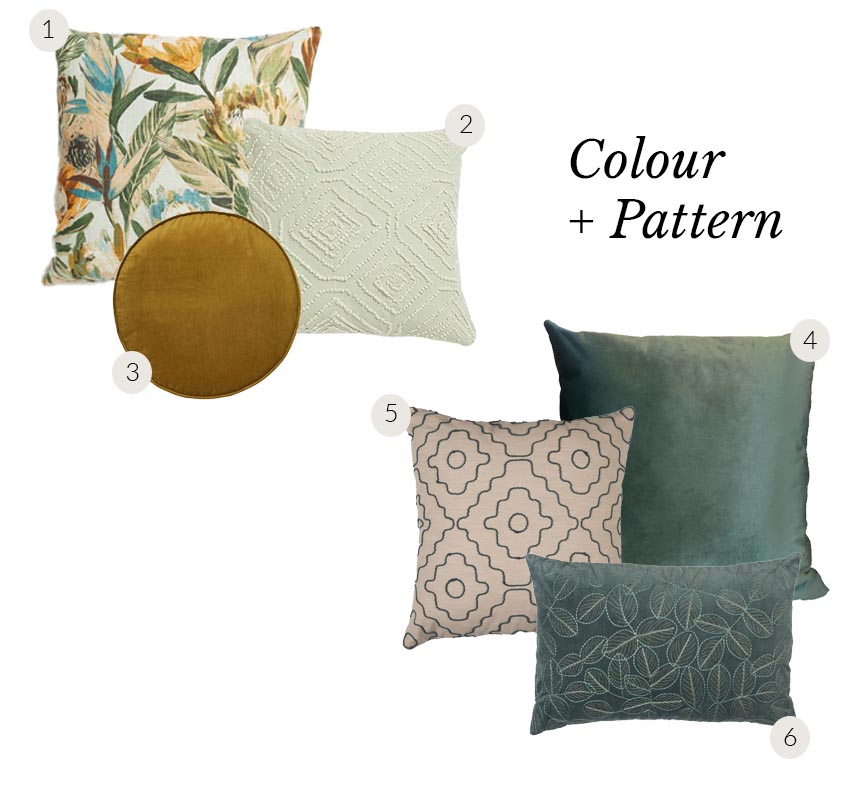 1. Royal Flush Saffron Cushion | 2. Aurel Sea Foam Cushion Cover and | 3. Toro Bronze Round Cushion from Superbalist | 4. Emerald Velvet Scatter from Linon | 5. Marrakesh Embroidery Scatter Cushion and | 6. Embroidered Leaves Scatter Cushion from Woolworths
Ultimate Mix + Match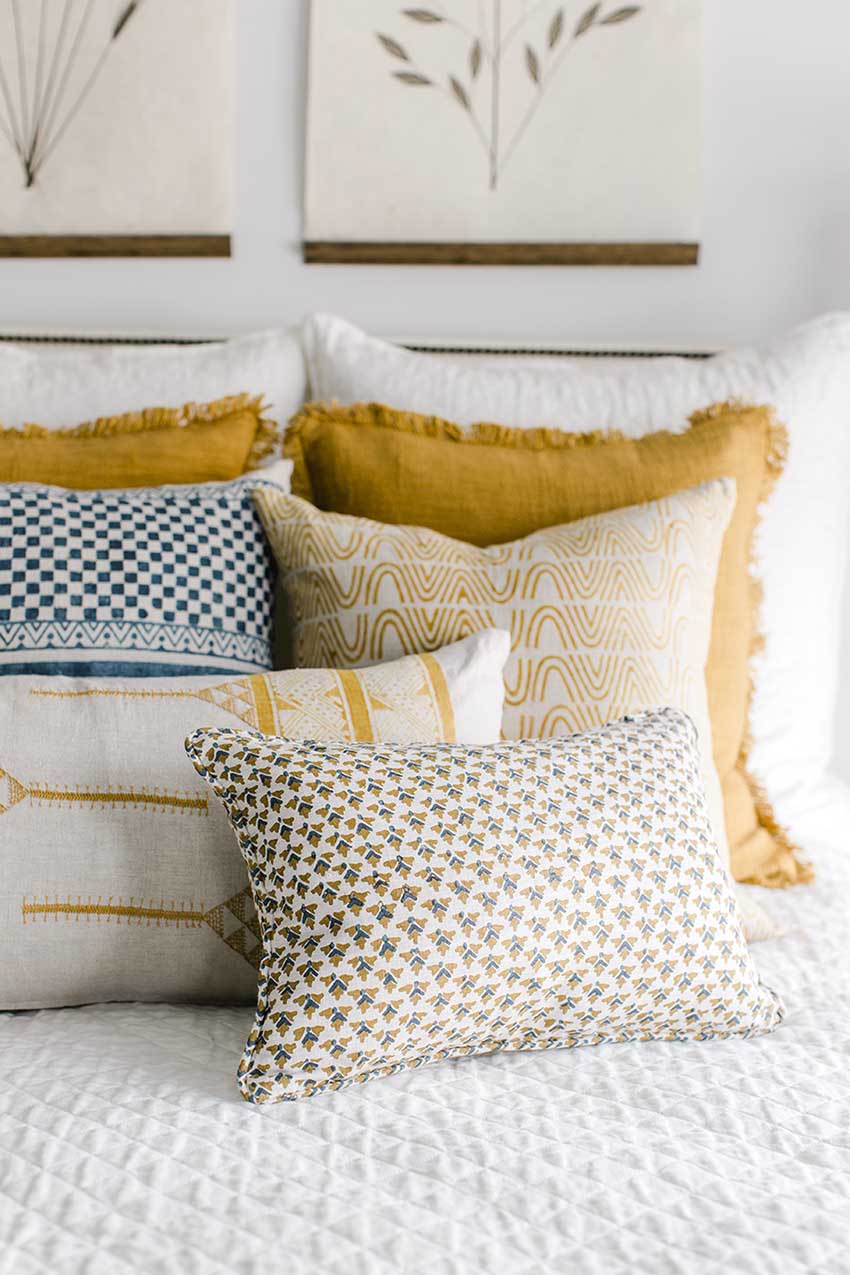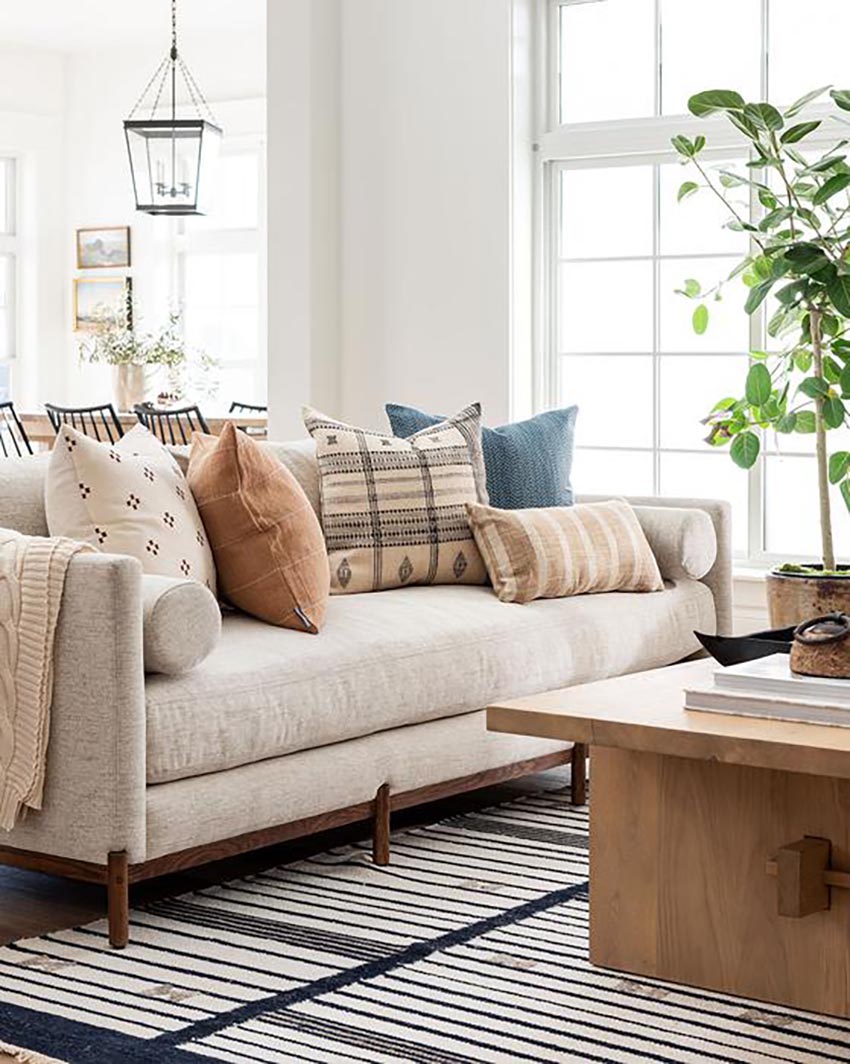 Image Source 1 | 2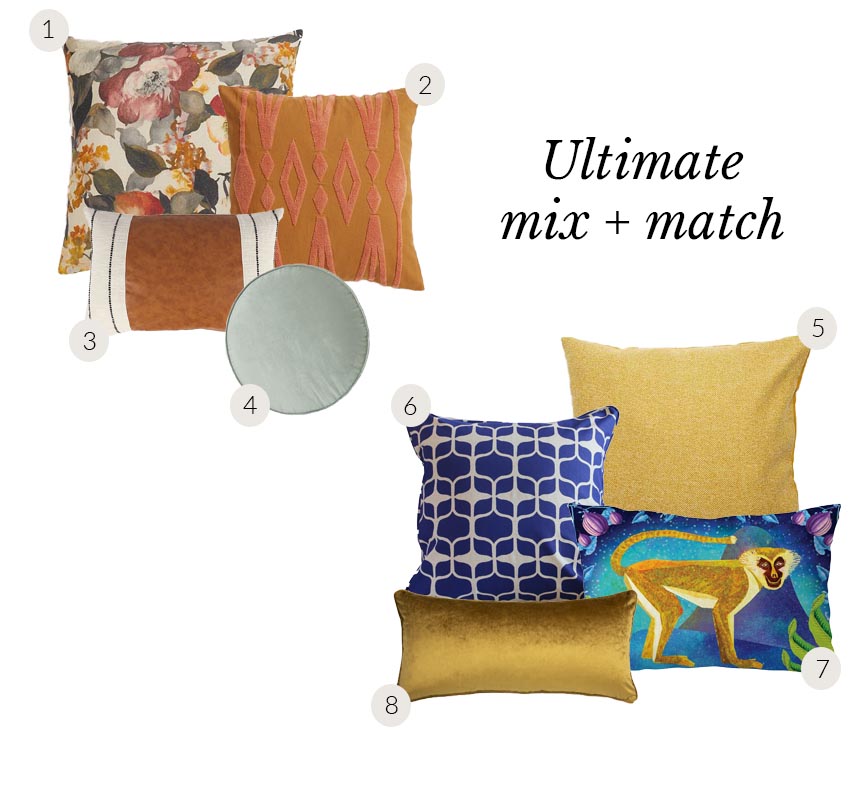 1. Genoveva Fall Cushion Cover and | 2. Mosaic Rust Cushion Cover from Superbalist | 3. PU Slub Stripe Scatter Cushion from MRP Home | 4. Toro Stilwater Round Cushion and | 5. Dijon Page Cushion Cover from Superbalist | 6. Graphic Indigo Scatter Cover and | 7. Monkey Scatter Cushion from Knus | 8. Ochre Oblong Velvet Sheen Cushion from @home